What we surround ourselves with has a stunning impact on our mood, thought patterns, and even our health and well-being. This is why I love Japandi-style bedrooms and why I think you'll love them too!
When you're lying in bed, you want to be able to relax and unwind. This can be a challenge with all the things on your mind. It helps to create a space that will let you fall asleep naturally. These Japandi bedroom ideas help you create a sanctuary in your bedroom through their calming, neutral schemes.
Here are our top 10 relaxing Japandi bedroom ideas to help you create a warm, comforting and calming space!
---
Artwork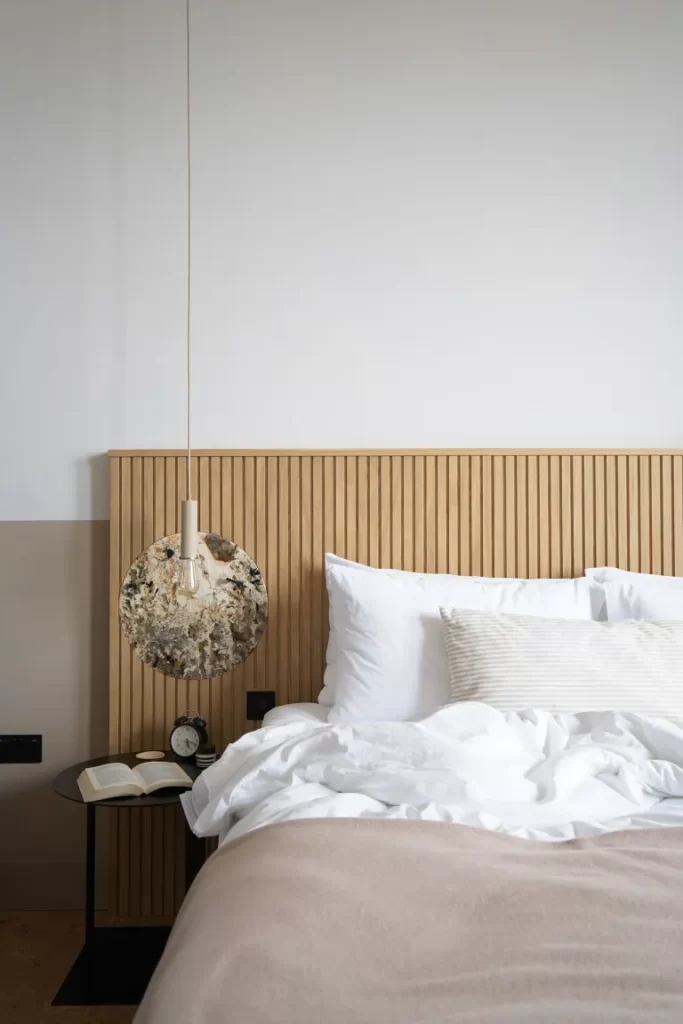 This hotel bedroom has a lot of the classic Japandi traits such as wooden lines, natural colours and materials and minimalist layout. But the thing that stands out for me is the Japanese style artwork beside the bed.
Don't overthink what Japandi actually is, just bring in some elements of both Scandinavian and Japanese style and keep things low key.
Everything here works wonderfully together without having to put too much thought into it. I'm especially fond of the half-height colour change on the walls!
Colour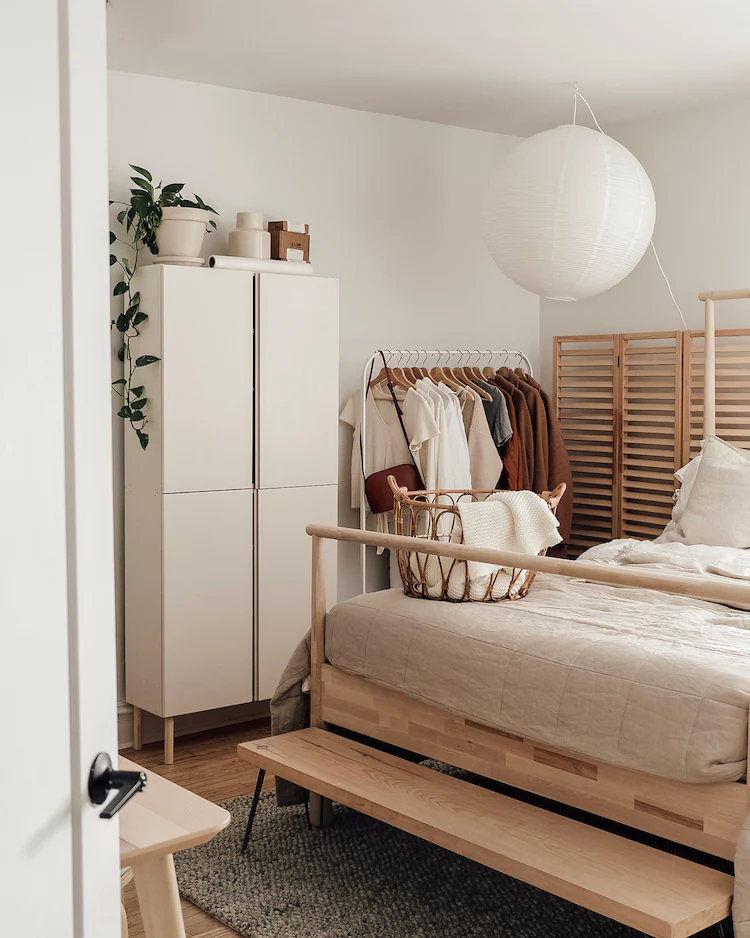 In true Japandi style, this bedroom has gone for a neutral colour scheme that does not vary much across the room.
Nothing is jarring to your line of sight and it is completely calming.
But the key piece that helps keep this neutral scheme is the cupboard that has been painted the same colour as the walls to blend in. It's an Ikea Ivar unit that has been specially made and painted for this purpose and I love it for how little it does to stand out!
Bed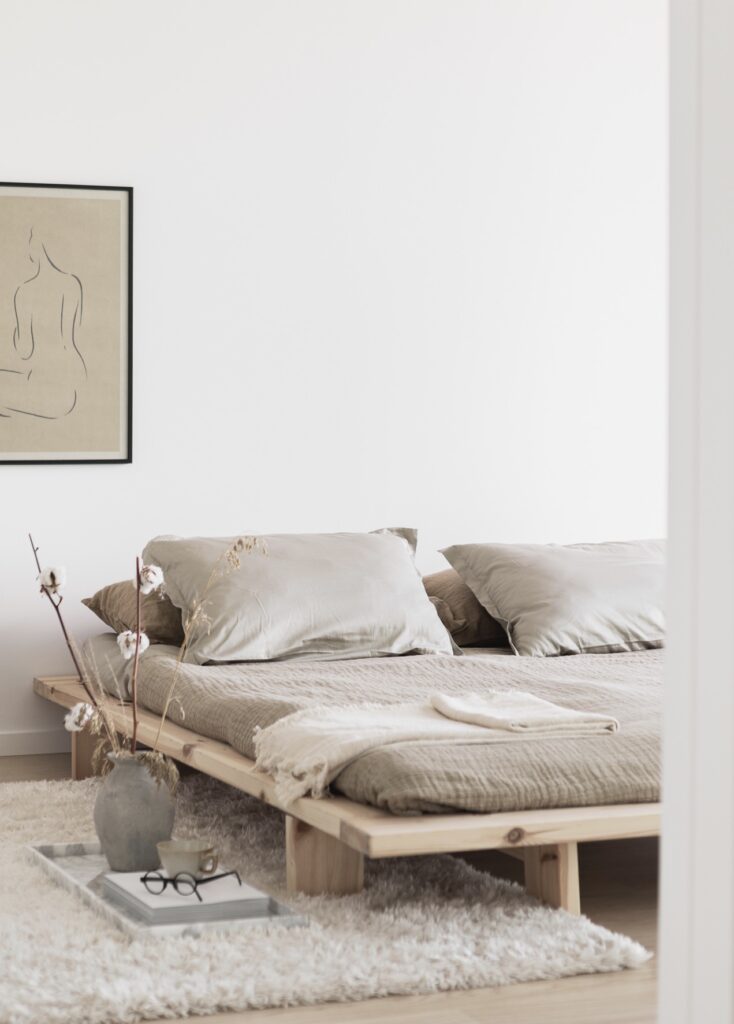 Choose the right bed and you're halfway towards a gorgeous Japandi bedroom style. This low-slung bed is perfect!
If I were to pick three key considerations for a Japandi bedroom they would be low-down furniture, lots of wood and some paired-back natural elements. This bedroom has all three, with the subtle addition of the dried grass and twigs in a jar.
Having a bed sitting low like this might not be great if you suffer from a bad back, but it frees up so much of the space in the room to give the impression of having lots of room to breathe!
Long Lines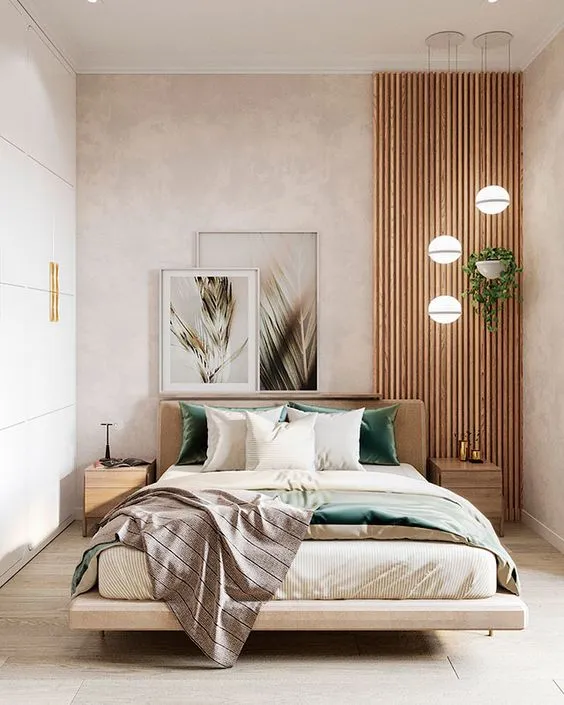 Whether it is vertical or horizontal, having long, clean lines of wood somewhere in the room is a very classic Japandi style trick.
This bedroom uses vertical wooden strips all the way to the ceiling to give the impression of a bamboo plantation. The added hanging plant helps with this effect.
I also love the large, nature-inspired pieces of art sitting on a shelf in a very relaxed fashion!
Industrial Materials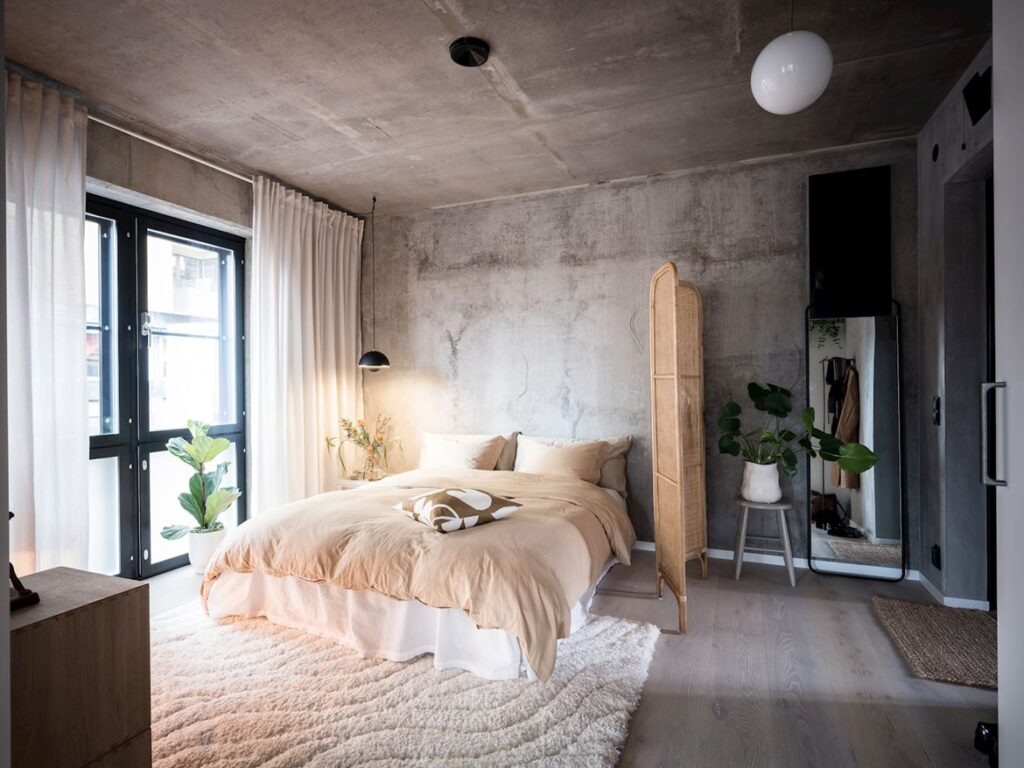 Japandi doesn't have to mean just wood features… you can incorporate industrial materials such as concrete.
This room has had it's walls pared right back to the concrete, but you can achieve this look with concrete-effect wallpaper.
Another great feature in this room is the cane screen by the bed. This might be a practical feature obscuring a view into the open bathroom or it might simply be a clever way to introduce some natural wood into the room.
Lighting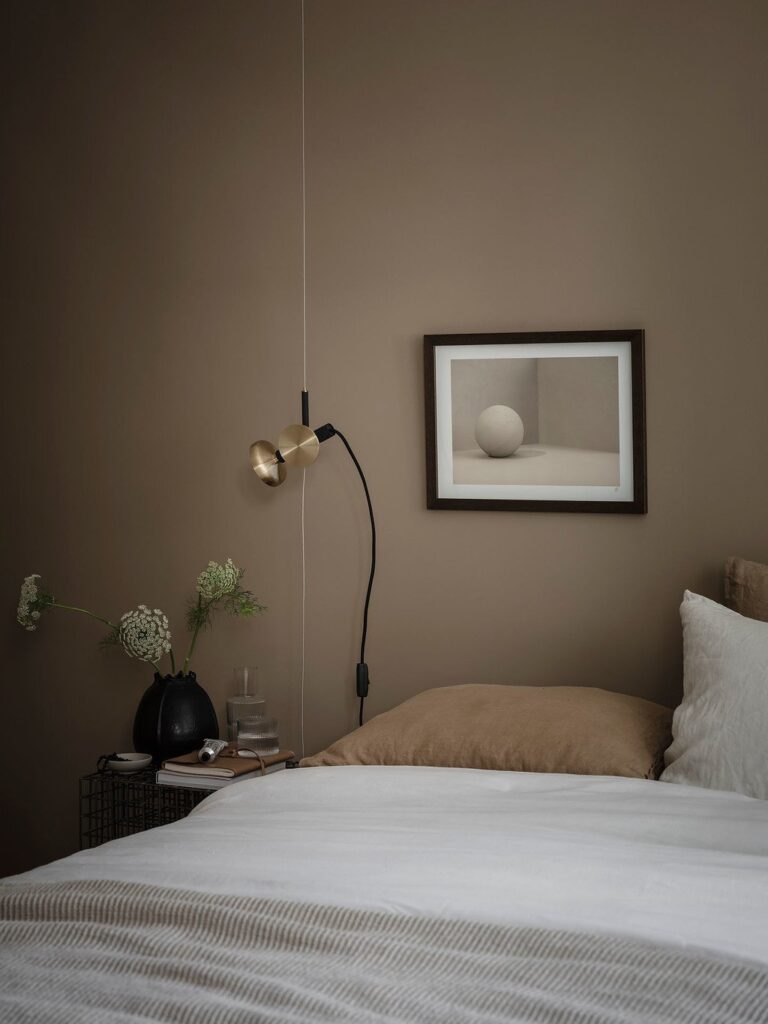 One colour that brings a Japandi look more towards the Japanese side is black and you can achieve this in a number of ways, but a subtle way is through lighting.
The black and brass of this hanging light fitting, with its circular elements, brings a little Japanese style to an otherwise very minimal bedroom.
Plants and Trees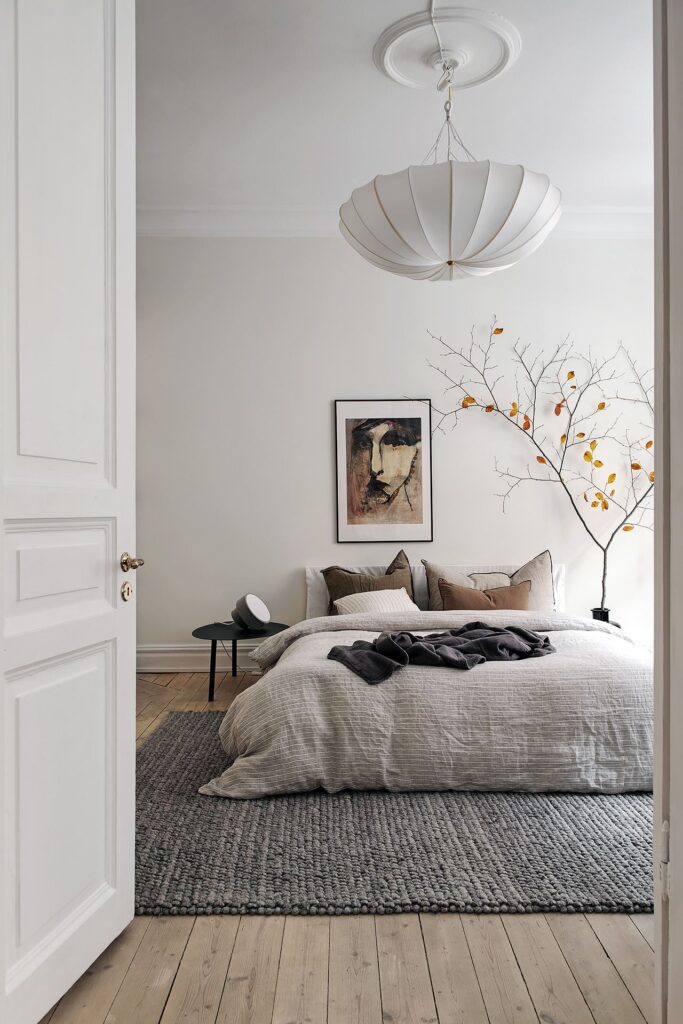 This is Scandi all the way, except for one key addition; the amazing tree branch with autumn leaves.
This one element turns the whole look into a Japandi style as it invokes the image of a Japanese blossom tree (in fact, you could use an actual blossom branch if you have one!).
The large wool-knit rug is both cosy and grounding for the room.
Angles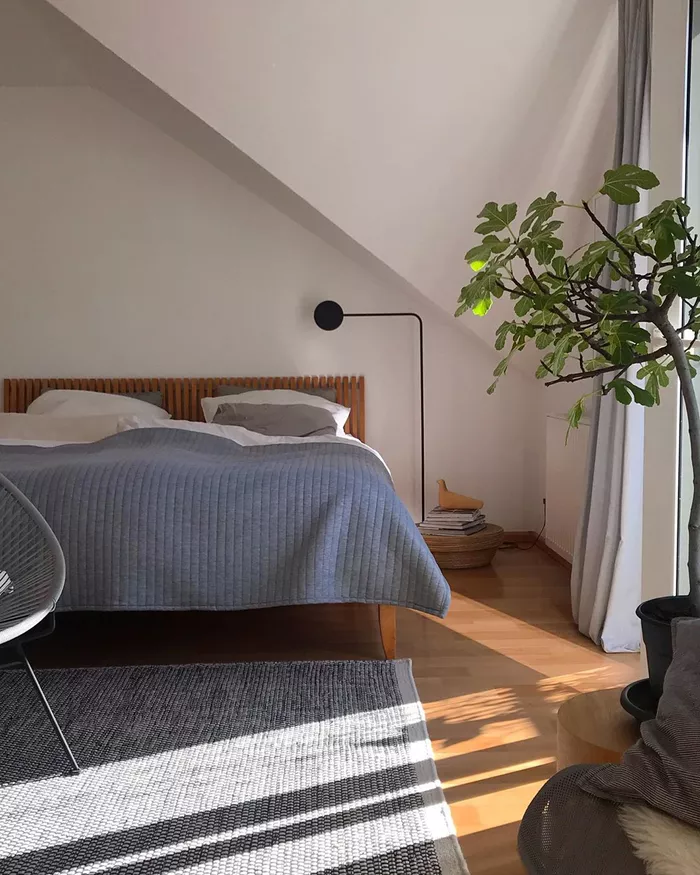 We talked about lighting, especially black lighting earlier, but the use of angles such as the one in this bedroom's light fitting is also a great way to add a subtle Japandi effect.
The large fig tree is another important part of the whole look here.
Plants feature a lot in most of these bedrooms!
Natural Materials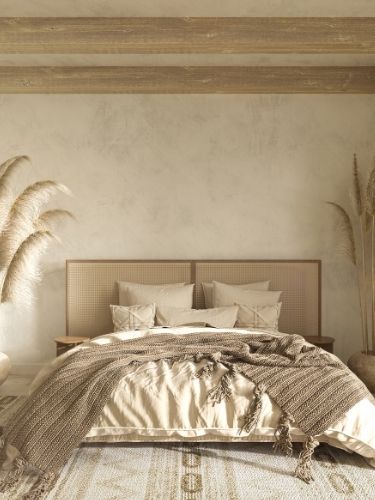 Yes, this bedroom has a lot of the traditional Japandi elements but the key features are the tall dried grasses and cane headboard.
Japandi relies heavily on such natural materials, especially any wooden furniture.
But if you don't have the main wooden pieces to start with, you can still bring that natural element in with larger accessories like these.
Messy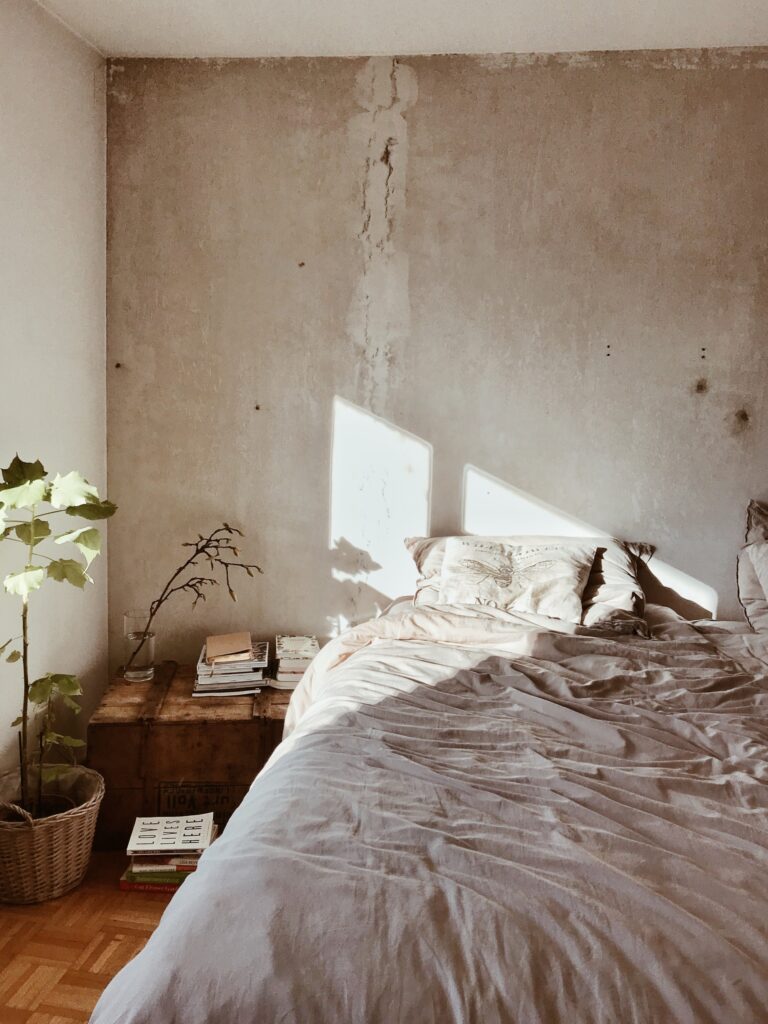 Messy is more of a Scandi style, but that doesn't mean it won't fit into a Japandi bedroom. You are in control of how this looks!
Shall we call it a 'Relaxed' look instead? is that better?
When you have some gorgeous linen bed sheets, you can do whatever you want with them; messy or tidy!
And books… well, books look great whatever you do with them!
---
There is so much to take away from these Japandi bedroom ideas. But the key thing is to not get hung up on making your bedroom perfectly 'Japandi' in style.
Japandi can be what you want it to be. The idea is that Japandi style is calming, neutral, feel-good and minimal with some natural elements.
Have a go at creating your own Japandi bedroom sanctuary and let us see the results!
You might also enjoy:
How to Achieve Japandi Style with Ikea Furniture (and Hacks)
6 Calming Japandi Ideas We Love