In our next instalment of designer rooms with Ikea furniture we have found this incredibly cool, urban grey living room from Huizedop.
There is a lot of grey going on here, which we love, but is softened with some pinks and ivory elements. The large bird of paradise plant and the dried plants and twigs bring in some natural elements that stop the whole thing being too industrial and hard-edged.
This look is great for a large apartment living room and is a wonderful middle ground between masculine and feminine vibes.
Let's have a look at how you can recreate this look with Ikea furniture (and hacks of course!).
[TL;DR] The final mood board with all the Ikea options can be found at the end of the post!
---
Wall Colour
This wall colour is not a simple choice of paint and slap it on. There is some texture to the paint to create a concrete effect. In the original room they have used a very expensive paint system from Pure & Original. But we're going to give you the DIY method of course!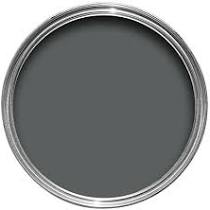 The paint colour we have chosen to match this room is Downpipe from Farrow & Ball. If you don't know our methods yet, we always recommend taking the F&B colour swatch to your local DIY store and getting it colour matched in cheaper paint. The quality difference is always negligible if any.
Now for the effect.
You can achieve this with normal paint, but thinned down a little with water. Start with a white wall, if you need to paint this then just get a cheap acrylic white wall paint. Apply a first coat in your colour with a roller to give a base. Then do the next coat in stages, painting it on randomly with a brush and then dabbing it with a muslin cloth. Have a bit of practice in one area first, then start over when you've got the look right.
Furniture
Of course, we're not going to get the exact look of that gorgeous, plump sofa from Ikea, but we can get pretty close.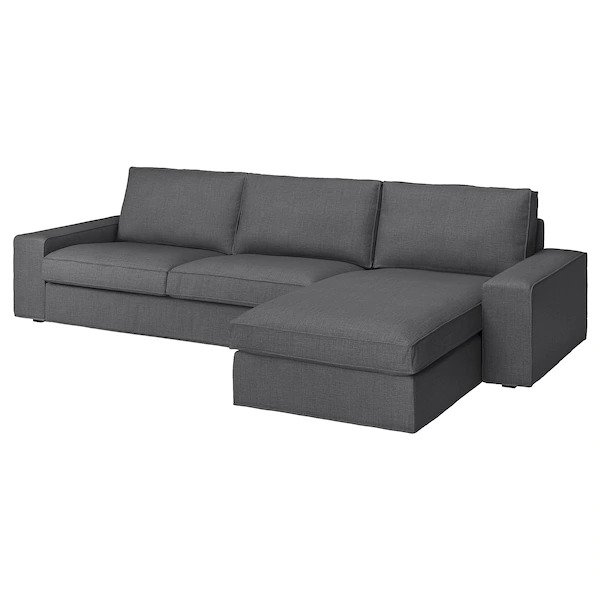 The Ikea Kivik sofa is a great, simple sectional sofa that comes in a range of colours. This will make the perfect base for the look we are trying to achieve.
If you are thinking this looks nothing like the original, well it might look a little more angular, but we will soften it up with cushions and throws later.
We've tried this sofa in Ikea and it is super comfortable!
The other main piece of furniture is the elegant metal framed coffee table. Ikea have the ideal solution for this in the Vittsjo coffee table. You even get an extra table into the bargain!
If you want to achieve the same look, with the bottom frame on the floor rather than legs you can use a hacksaw to chop the legs off the bottom and then file the edges down.
To achieve the same effect on the top of the coffee table you can get some black vinyl floor tiles and cut them up into squares. These often have adhesive backs so you can just stick them on to the glass. Alternatively, you could glue these leather coasters on.
Lighting
The one piece of lighting we can see here is a simple black angle poise floor lamp.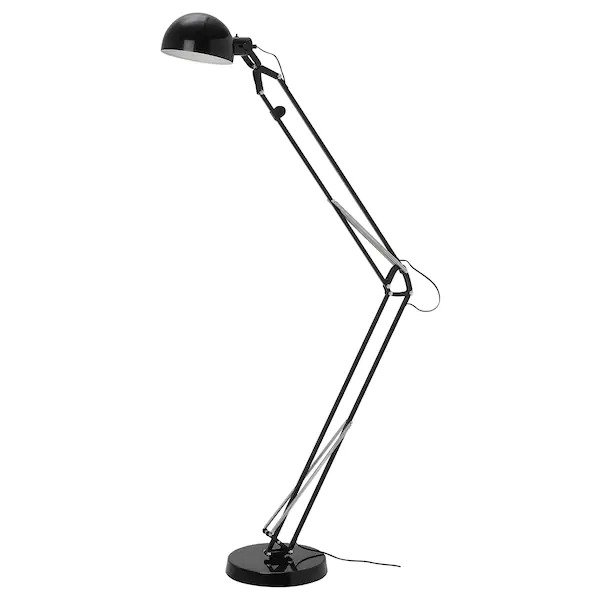 This is fairly easy to source from Ikea.
There are a couple of options, but this Forsa lamp would look great.
Soft Furnishings
This is where we can really make a difference to this room. The sofa can get dressed up and we can even find a curtain option.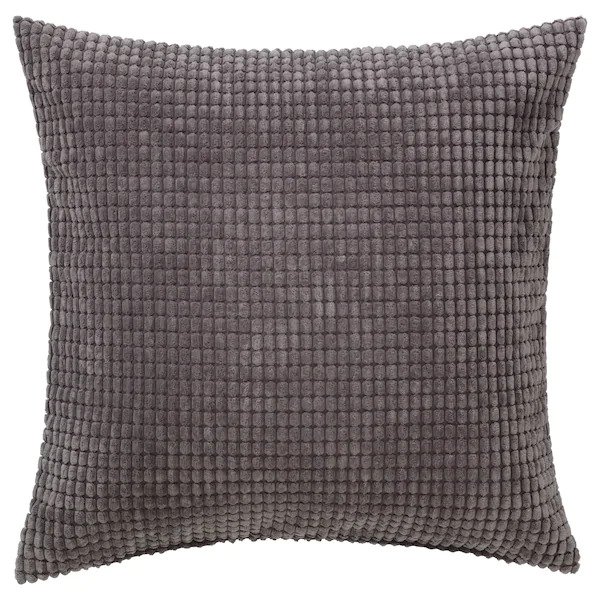 The curtains are nice and easy; Ikea Hilleborg curtains.
Accessories
There are not too many decorative items in this room so as not to over-clutter it. But the vases on the coffee table add in the design trick of grouping in threes to give a pleasing element to the eye.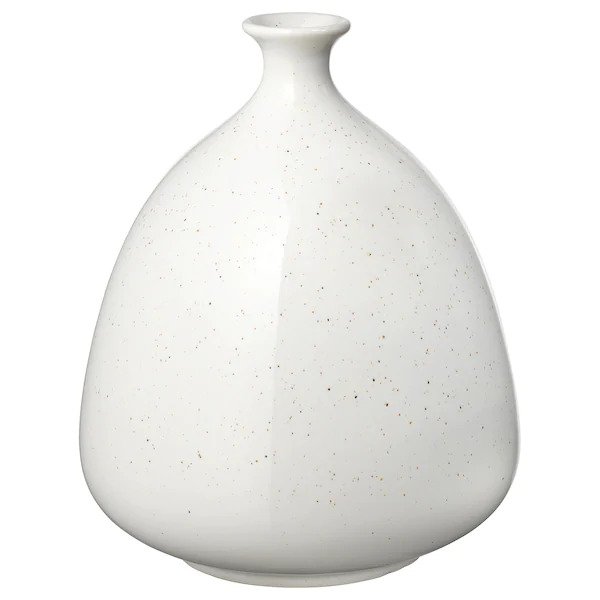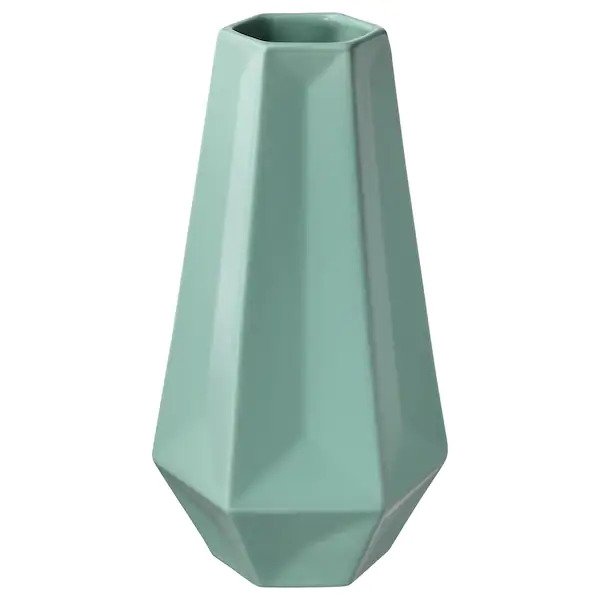 Ikea has a good range of vases and you can totally customise them. In this case, the Livsverk vase is great as it is, but the faceted Livslang vase could be better in a different colour.
You can do this with an enamel paint. You can also add some customised design of your own to it, perhaps splashing on some paint in a different colour or using washi tape.
The one other big decorative item in the room is the bird of paradise plant in a basket.
Ikea, rather fortuitously, sells bird of paradise plants and you can create the black basket planter with a Krallig seagrass basket. All you need to do is spray paint it black and then place the plant inside, with a drip tray to stop water getting to the basket.
Artwork
We love the artwork they have in this room. It is simple, fits the theme and can be changed to any wording you want at any time.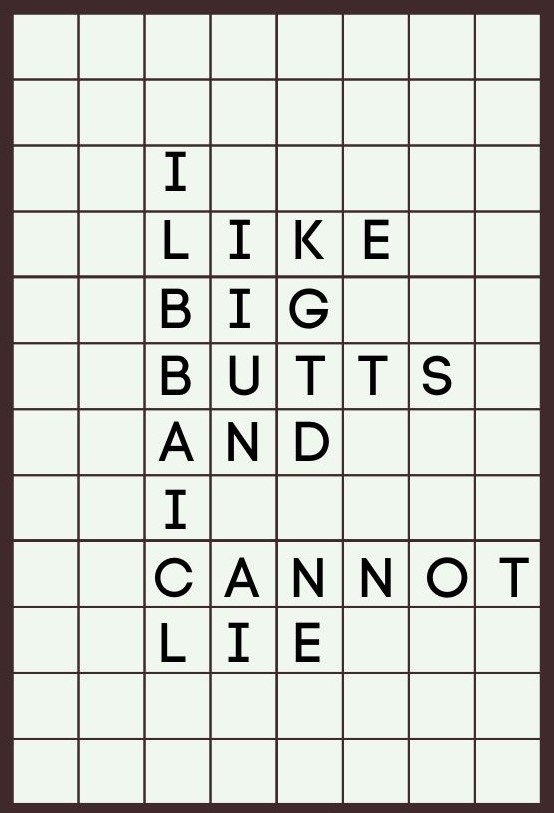 It's also really easy to do yourself. Just start with a large Ikea Lomviken picture frame.
Remove the mounting card and add a black backing paper. Work out what size you want the individual squares, then get on the computer and create your letters in your selected font.
Cut up all the squares you need and then use contact adhesive to stick the squares just enough to hold in place, but allowing you to remove them later.
Rug
While we can't recreate the thickness of this knitted effect rug, we can certainly find something that has the same texture while being budget-friendly.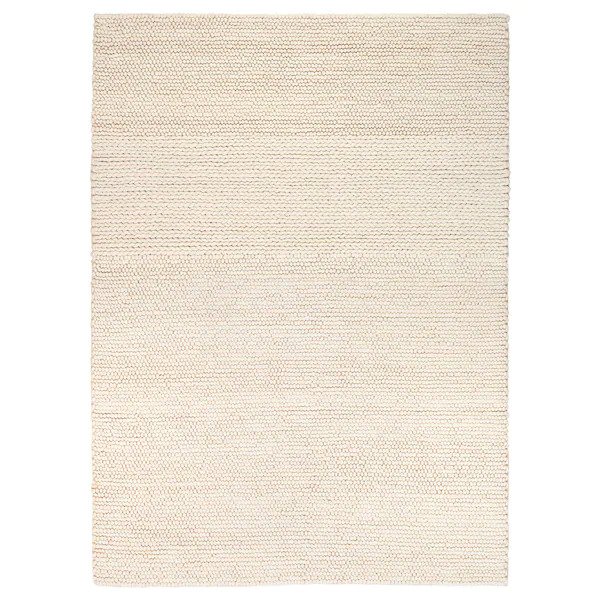 This Ibsker rug makes a great base for everything else to sit on top.
It still gives a bit of texture to the floor (and your bare feet!).
At the end of the day, the main job of a rug is to add warmth, give texture and anchor pieces of furniture like the sectional sofa here.
---
The Final Mood Board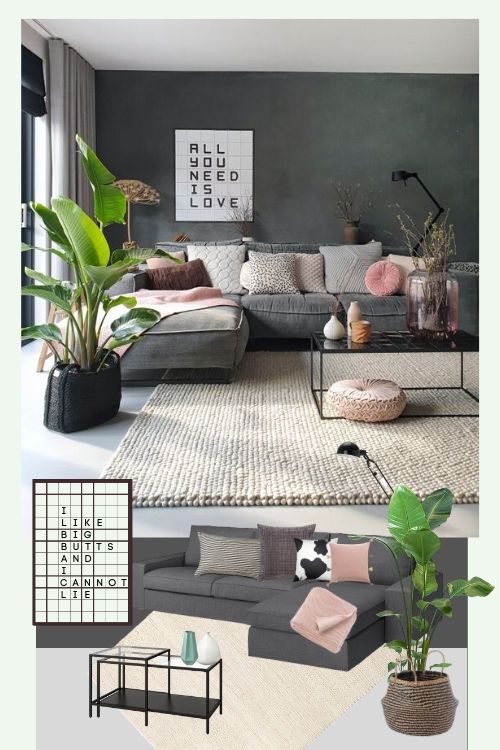 I couldn't resist the message on the artwork, sorry (not sorry).
That was quite an interesting one to do. A good combination of a simple selection of the right Ikea products, with a little bit of DIY to get the right looks.
The entire budget for everything we have talked about (remember, this doesn't include any work you need to do to the room to prep it) is:
£1,366 (about $1,660)
That is a fantastic budget for a designer room with sofa, rug, artwork, coffee table, cushions, throw, pouffe, floor lamp, paint, vases and a big old bird of paradise too!
We love doing these designer rooms from Ikea posts, as well as our more general designer rooms on a budget because we want you all to have beautiful rooms!
If you have a room you want to recreate, get in touch with us!