Love it or hate it, graffiti art is certainly more popular now because of artists such as Banksy, Daim and Space Invader. They resonate with a lot of people both through their talent and their messages.
While it might not appeal to everyone, it is just another form of art. Unfortunately, it largely revolves around painting on other people's property which is not cool. Although, it is interesting how people react when Banksy paints something on their property! (Still not advocating it, of course!).
But what about adding graffiti art to your own property? My take on this is that it's perfectly fine, as long as it's inside where it doesn't devalue your property or those around you.
Right, now we've navigated those tricky waters, how do you get some graffiti wall art into your home?
There are several ways to do this, with varying quality of results and range of costs associated. Let's have a look at how you can get graffiti art into your home.
---
Graffiti Wall Art Ideas
Graffiti Wall Art Print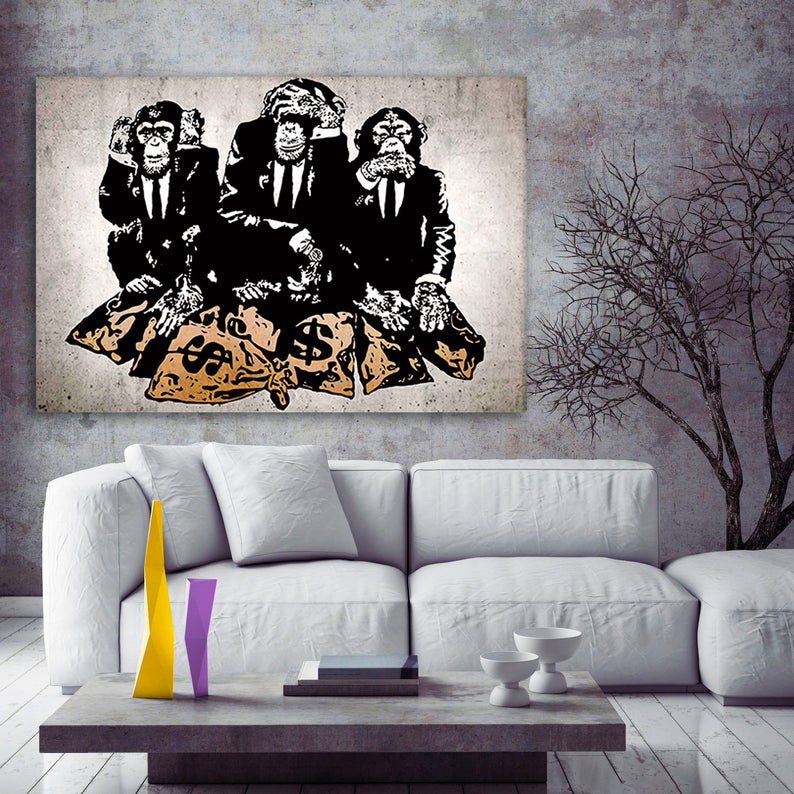 The first and most easily accessible option is to buy a graffiti wall art print. If you are just after a small graffiti print then it's not going to cost you too much, but going bigger will get expensive. Check out GraffitiStreet for original prints or Etsy for more affordable prints.
Instead of simply buying a physical piece of graffiti art, you could find a digital download of some graffiti art you like for sale and then get it printed in the size you want. Again, Etsy has a big range of graffiti digital download prints available.
If you find an image online that is not sold as a digital download it might well be copyrighted so it's up to you whether you want to get that printed off for your own use. If you decide to do that I would recommend not posting a picture of it on social media or using it for commercial purposes as you could get into trouble!
Alternatively, you could check free stock photo sites, such as Unsplash, to see if there is anything there you like.
Once you have an image you can upload it to an online print shop like Pics2Posters (UK) or PosterJack (US & CA).
Keep in mind the larger you go with your graffiti art print, the better quality the original photo needs to be otherwise it gets grainy!
Graffiti Wall Mural Products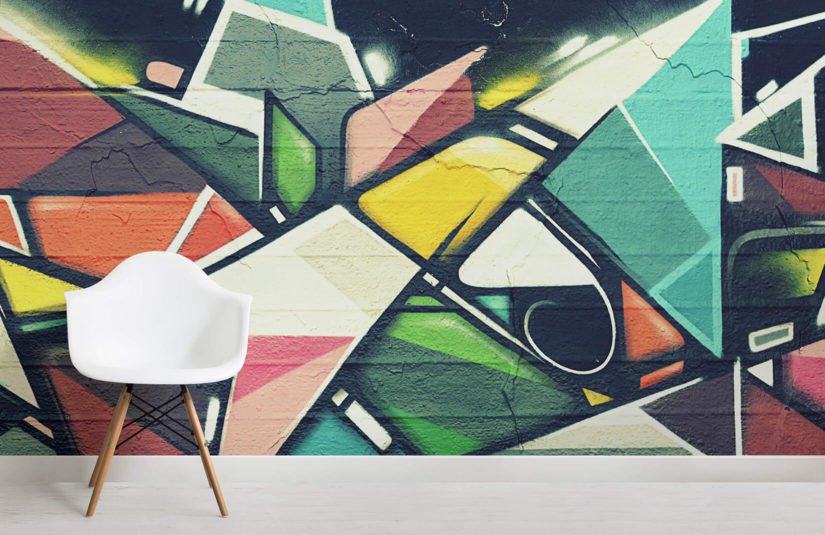 There are a few ways to create a graffiti wall mural at home, we will look at some others later, but the easiest is to buy a graffiti wallpaper or graffiti wall decal and apply this to a wall.
This is in fact a very similar option to the graffiti prints above, just on a larger scale!
The graffiti wallpaper might be the cheaper option of the two but it does involve a little skill to get it right. That being said, it is totally possible to DIY this option. Check out this great resource for hanging wallpaper.
The graffiti wall decals can also be a little tricky so here is another resource for this job.
For some really great graffiti wallpaper options have browse on MuralsWallpaper. You might be expecting some pretty lame offerings but you'll be surprised how good they actually are.
If you want large scale graffiti art in your home, at low cost, then these might be your best options
DIY Graffiti Art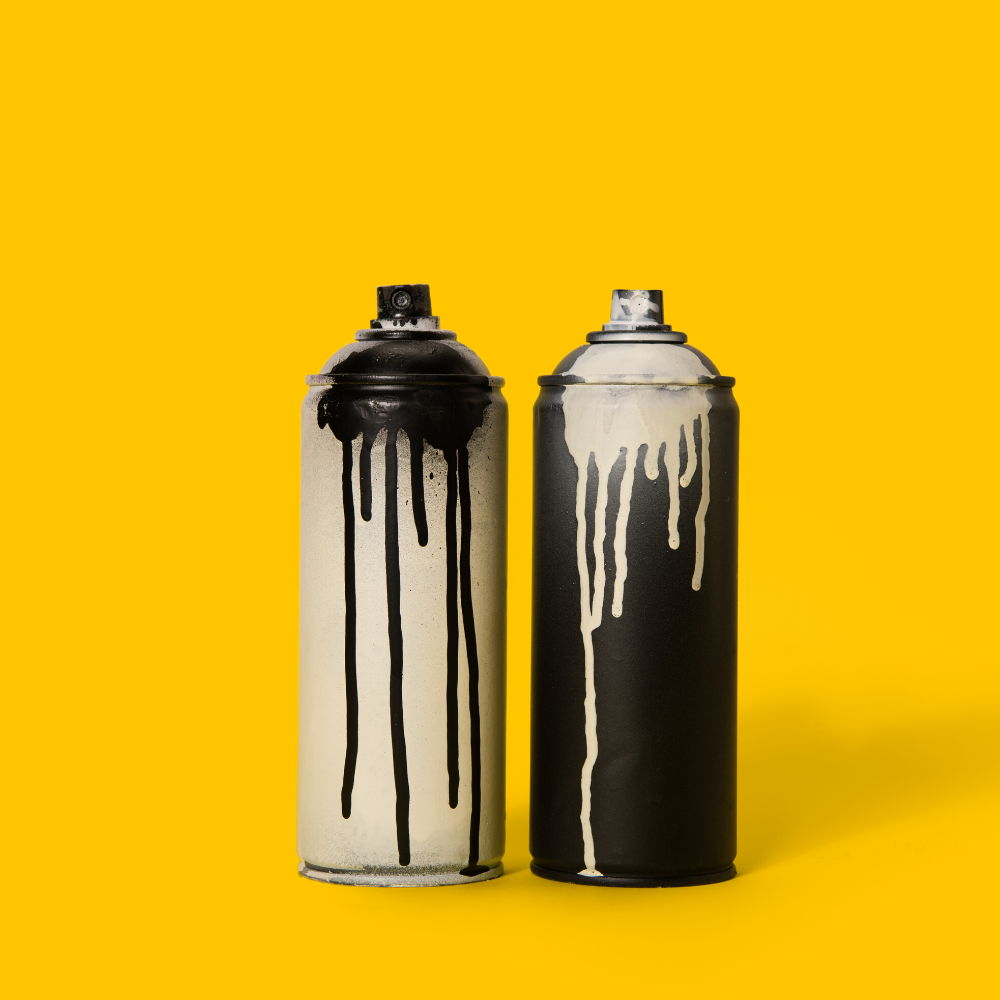 Well, The Great Hack Shack is all about DIY options as you may have gathered. So let's dive into some DIY graffiti art. Seems legit.
Firstly, it's not as hard as it seems. Secondly, related to the firstly, you can always go over what you have done to make it better. Thirdly, it's graffiti… you don't have to be precise!
I'm not about to write a course in DIY graffiti art so I bow to the greater knowledge of an expert and point you to this simple playlist of tips from Howcast on YouTube. Also have a look at this WikiHow post.
For a kids room you might want to keep it simple and do some graffiti art letters spelling out their name. This is a fantastic video from How to Draw and Paint on YouTube taking you through the thought process of setting out and perfecting your graffiti art letters.
Combing the lessons from the Howcast playlist with the latter video you can start to get an idea of how to create your graffiti art letters.
The final piece of the puzzle is the cans of spray paint. I am going to give you two options:
Top of the range would be Montana spray paints (about £7-15).
The budget option would be anything from a pound shop/dollar store.
If you want to practice first, definitely go for the cheap option. You will get an idea then for how good they actually are and whether you need to upgrade.
Using Graffiti Stencils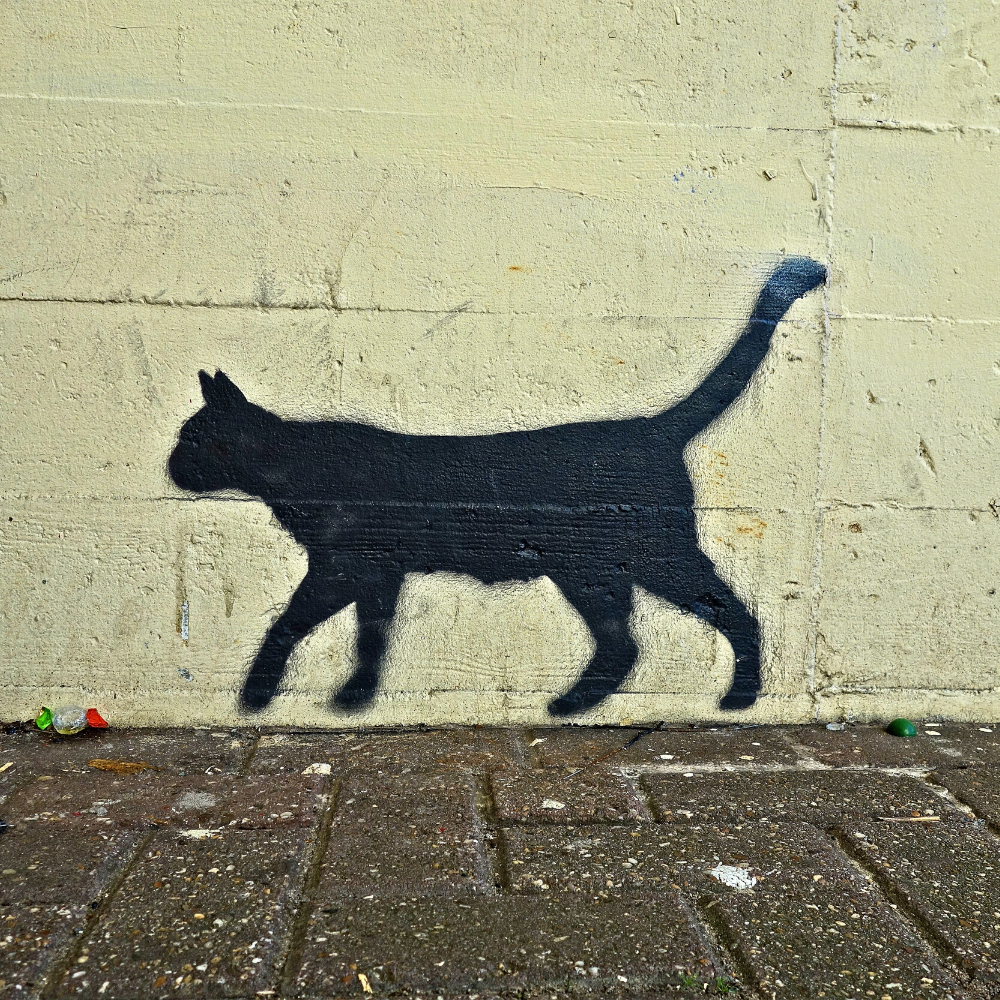 Nobody is more famous for using graffiti stencils than Banksy. They are often used to very quickly get graffiti up on a wall without losing the quality of the work. This may seem a cheat, but the talent is in the creating of the stencil and coming up with the original idea in the first place.
If you want to create your own graffiti art at home then you might want to consider making a graffiti stencil.
The simplest way to do this is by printing a black and white image of your chosen design and then cutting out the black parts to give yourself a stencil. Simple. But what if you want to create something bigger than you can fit onto a sheet of A4 or A3 if you can find a printer that goes that big.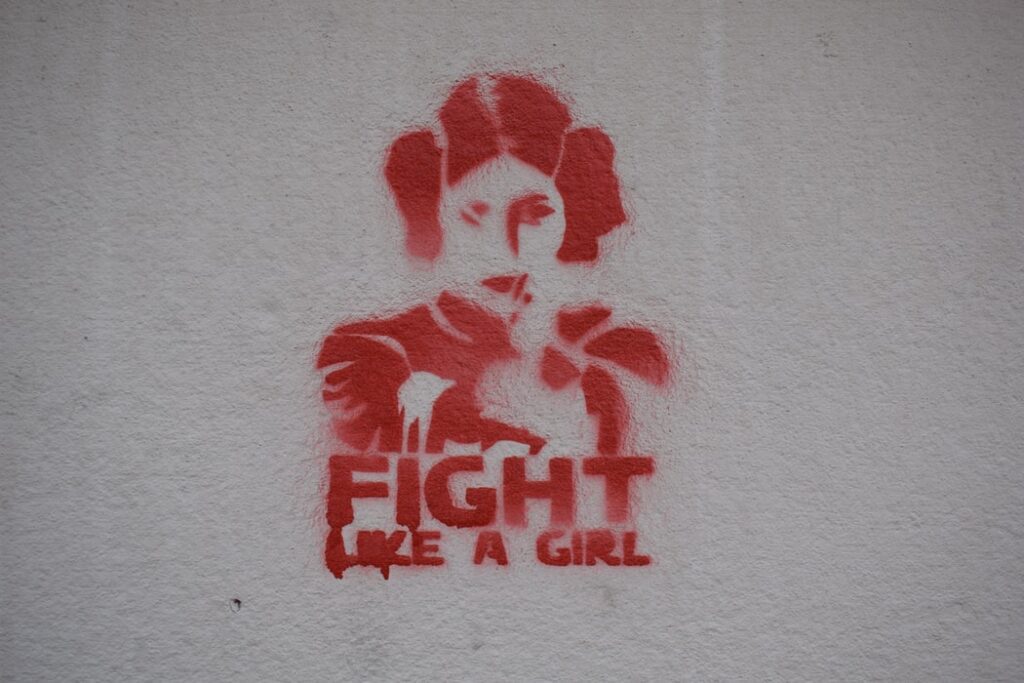 You could get it printed up to A0 at a printer's shop or online printers (£19 for A0 at Instant Print). Or you could make a larger stencil by printing off the large design on several sheets of A4. A site like Block Posters will take your image, ask you how many sheets of A4 wide you want it to be and then give you a pdf with the image split up into A4 sections. You can then print them off and stick them all together.
Another way to achieve a large graffiti wall artwork with stencils is to layer several different, smaller designs, building up until you have a large overall graffiti artwork on your wall.
Hire a Graffiti artist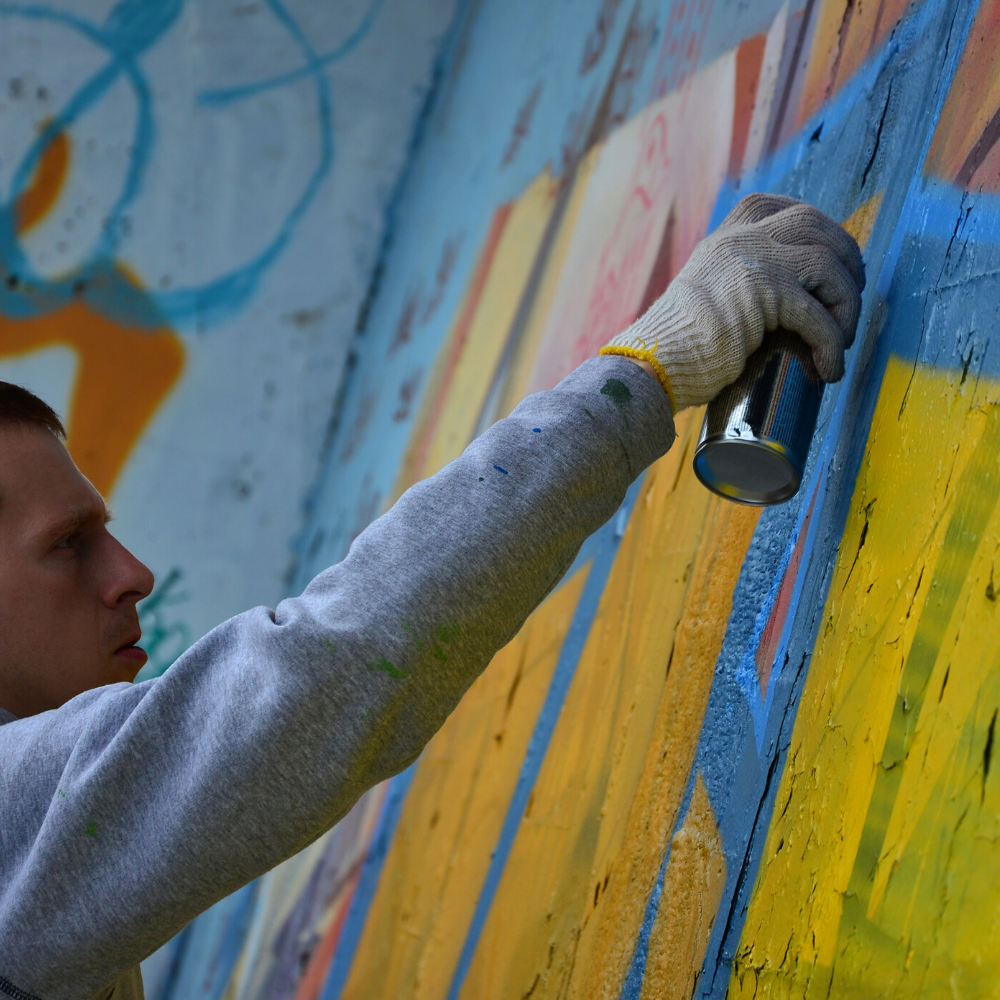 If you are not keen on any of the previous ideas to creat graffiti art at home then you can always call in the experts.
There are loads of companies that hire out graffiti artists to create murals on your walls at home. All you need to do is a search for graffiti artist hire in your local area. If you're concerned at all, check that the companies provide a DBS check on all artists. I'm not sure what the alternative is in the US.
In the UK, Graffiti Kings and Graffiti Artists 2 Hire are two of the biggest, nationwide options.
---
If you like the look of graffiti art enough to have it in your home, or you have a child demanding a cool wall mural for their bedroom then hopefully these ideas will help you.
Home graffiti art can create a dramatic scene in your home if you have a space that suits it. It will certainly be a talking point if you often have guests around!