Ikea make a pretty good value kitchen, but you can use some of their other products to help you create the kitchen of your dreams. All you need are some good Ikea kitchen hacks.
We've found the best Ikea kitchen hacks available, covering things like kitchen islands, lighting, storage and decor. We're sure you'll find something here that can improve the look of your kitchen.
There are even some great ways to make an Ikea kitchen itself look stunning!
---
Ikea Kitchen Hacks
Tiled Farmhouse Kitchen Island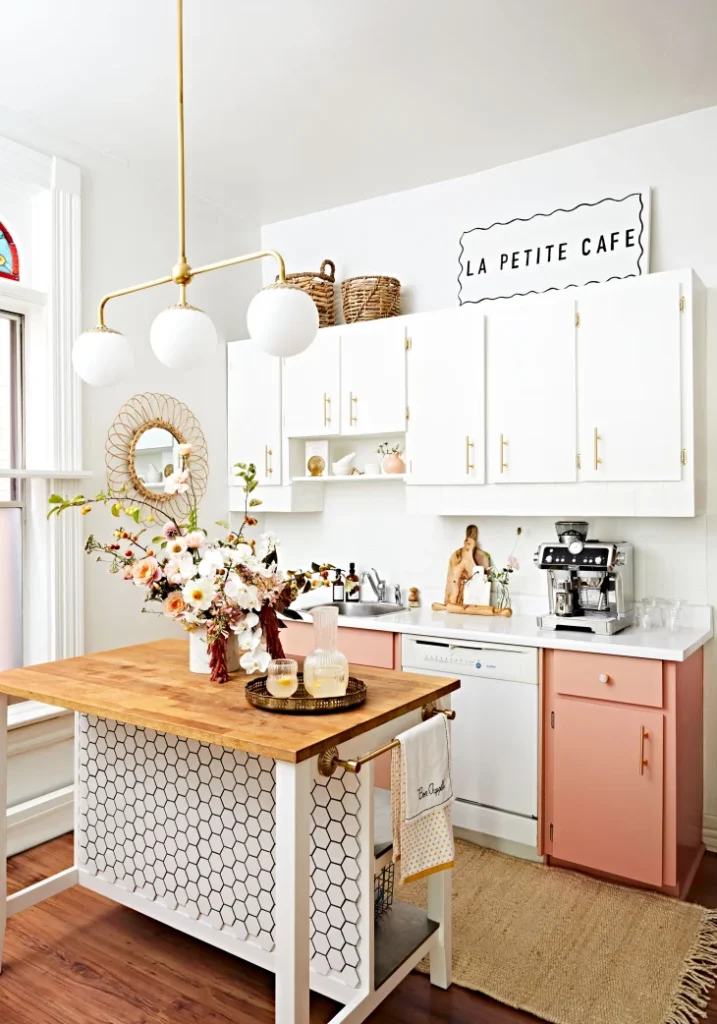 We love the whole style of this kitchen from Autumn Hachey via The Kitchn. The modern retro style is stunning.
We also love the way they have hacked their Ikea island table with a hexagon tile panel underneath and a vintage-style towel rail on the side.
Gold Painted Storage Rails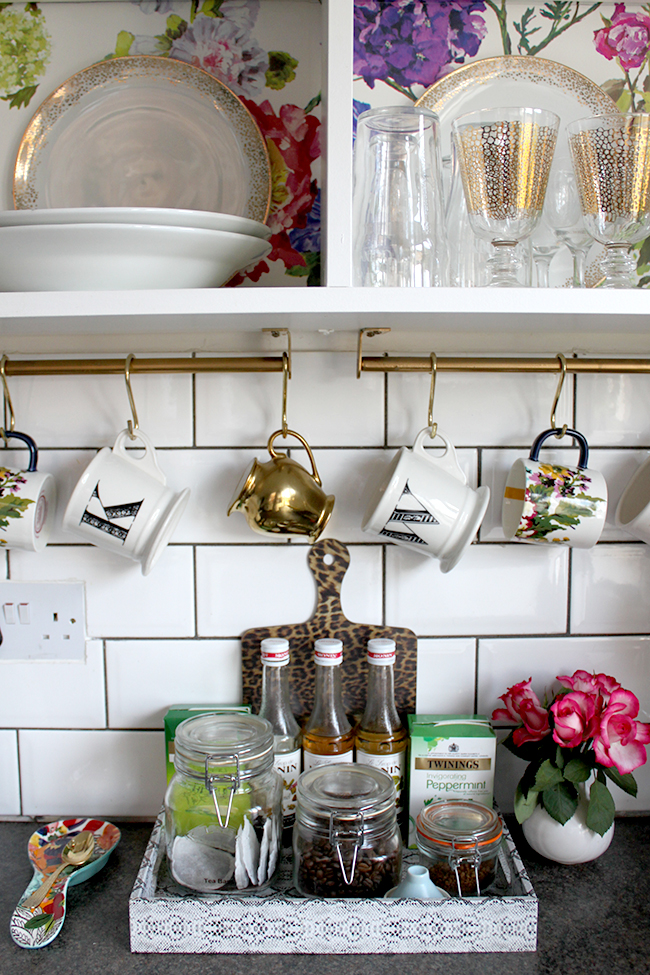 These Ikea Grundtal rails have been given an upgrade with some gold spray paint over at Swoonworthy. We love how well they fit into the vintage style of the kitchen with some mugs and cups hanging from them.
It's such an easy hack that adds an element of glamour to a kitchen.
Bed Slat Hanging Storage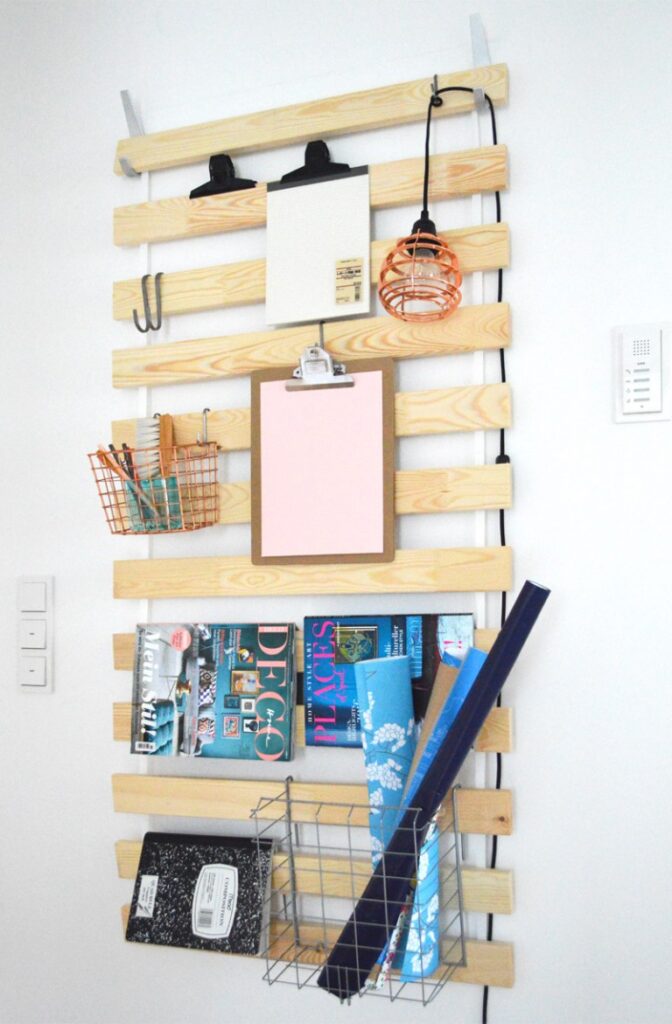 Storage doesn't have to be cupboards or shelves. This bed slat hanging storage hack from Ich Designer gives a hanging storage option for utensils, notices and plants.
We particularly love the clipboard for hanging recipes up while you cook!
Ikea Kallax Pull Out Food Bin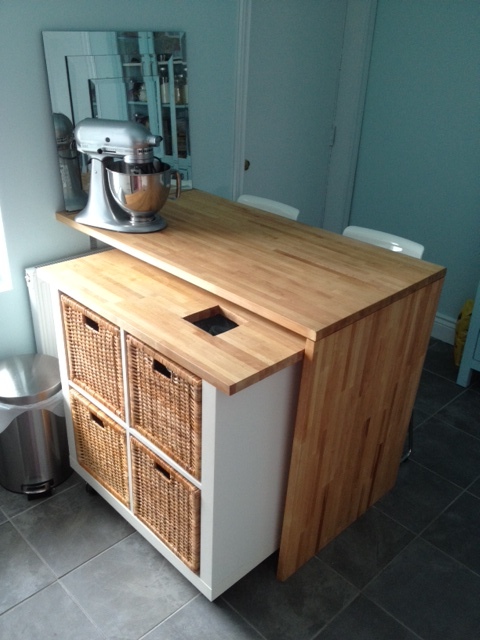 This is a great solution to the food bin conundrum. You know what I mean! This Kallax hack from Ikeahackers provides a pull out unit that includes a clever food bin solution.
The hidden work surface can be used to cut up food and then the waste thrown down the hole into the food bin.
Triple Hob Hack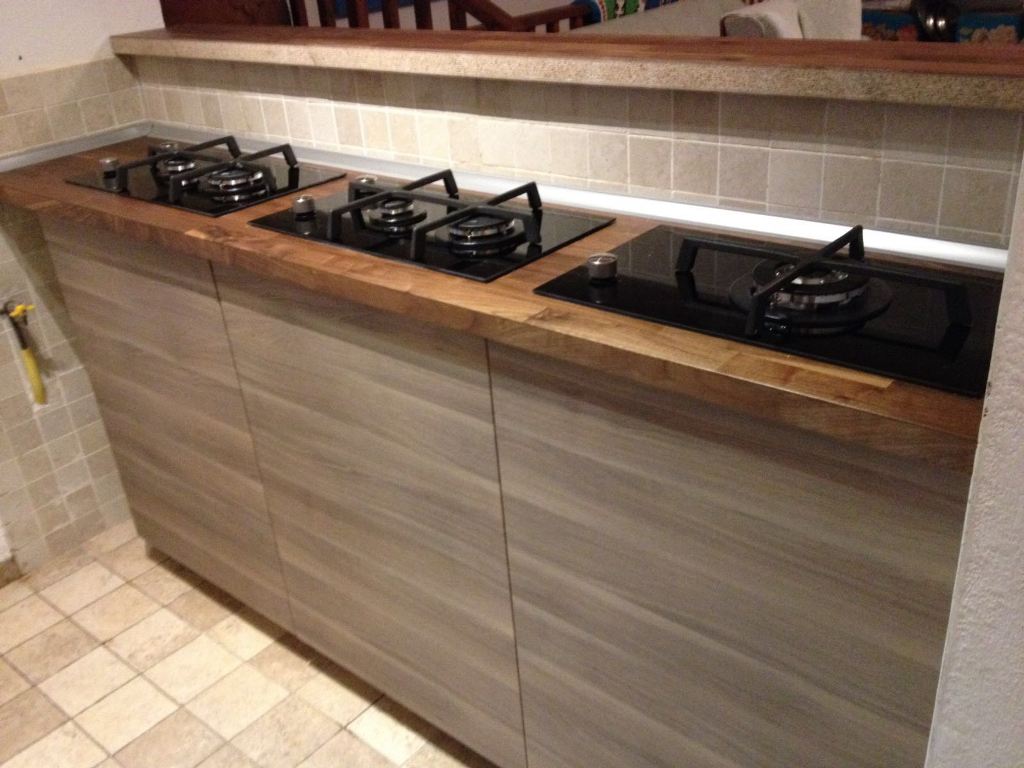 If you live with a lot of people and need an option to allow a few people to cook at once, then this clever kitchen hack from Ikeahackers is a great solution.
They have used three double burner hobs to create three separate cooking areas in one worktop.
With some added chopping board covers for the hobs, this kitchen is being made to work to it's best!
Copper Farmhouse Lighting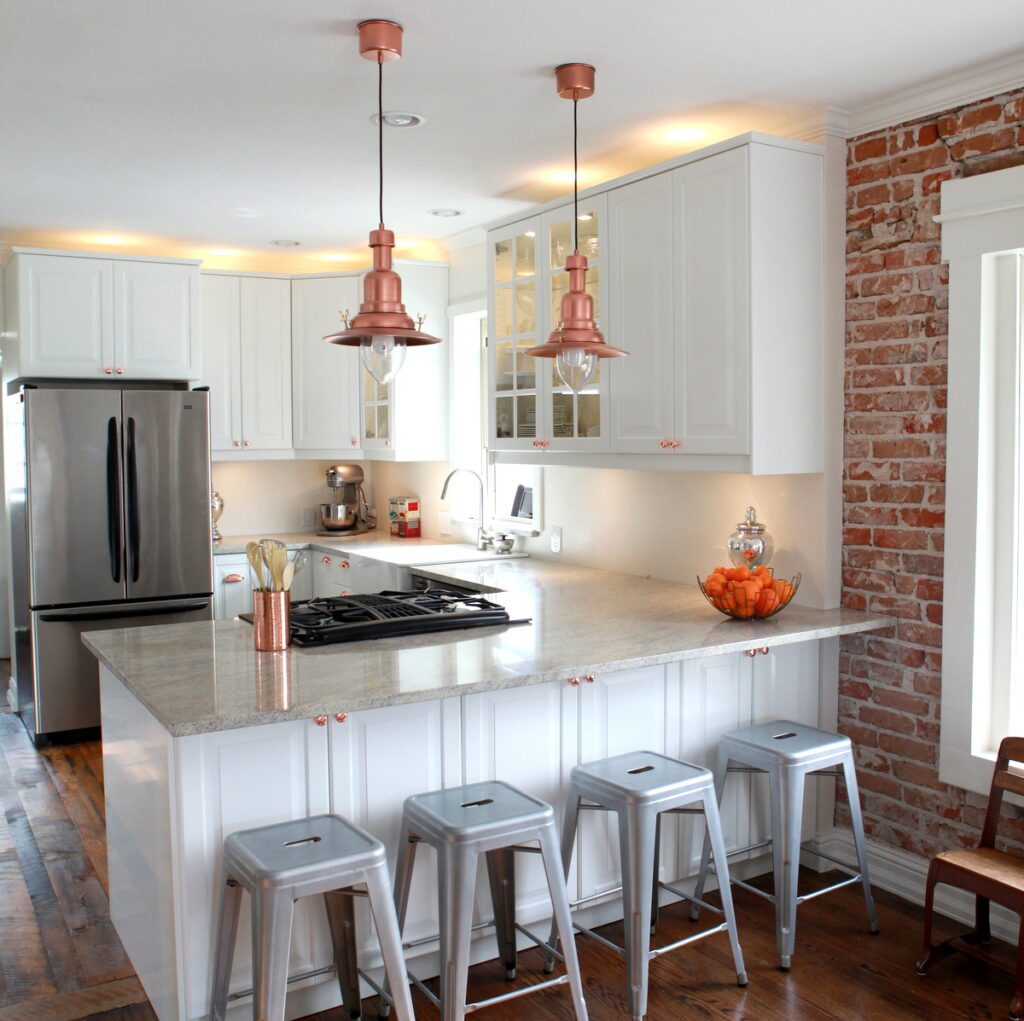 Seen some gorgeous copper farmhouse lighting that is out of your budget? Try this great lighting hack from Kojo Designs to create your own from Ikea lights.
All you need is some copper spray paint to change the look into something really stylish.
Upcycled Spice Rack Storage Shelves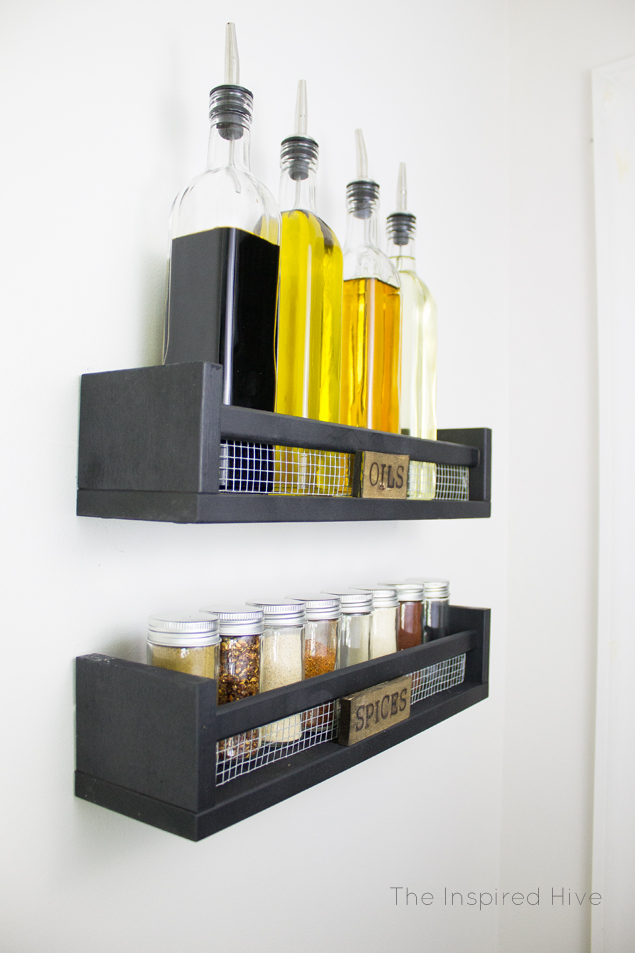 The Ikea Bekvam spice racks can be turned into so many great things with an Ikea hack. This shelving hack from The Inspired Hive creates some rustic shelves for spices, oils and all sorts of kitchen items.
We love the addition of mesh and little signs to add to the rustic, farmhouse effect. They would make great egg holders too!
Plywood Kitchen Cabinet Door Upgrades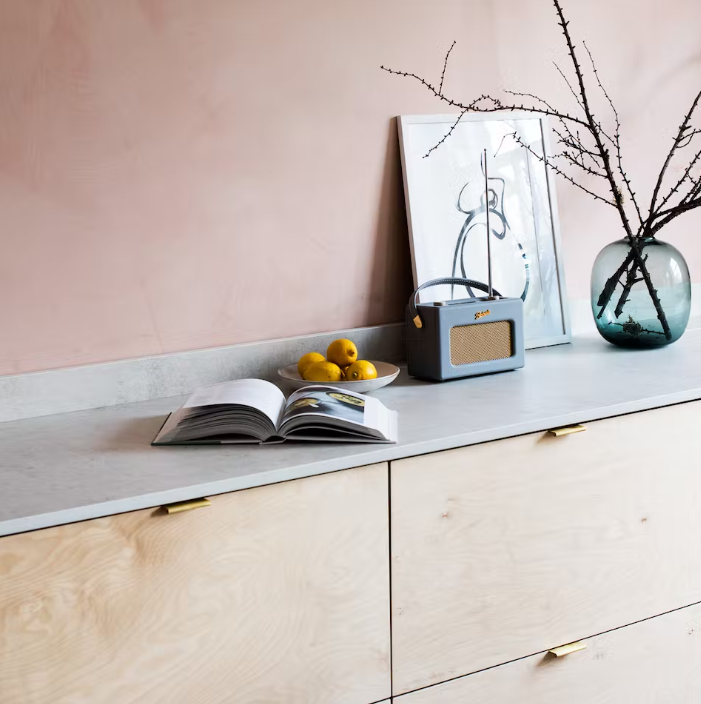 The Ikea kitchens are fairly basic, but you can turn them into designer-looking kitchens quite easily. All you need to do is change the doors and drawer fronts!
These gorgeous plywood doors from Plykea are a great way to do it. They can be natural or painted and there are loads of stylish handle options. We love this minimal handle.
Ikea Kitchen Trolley Hack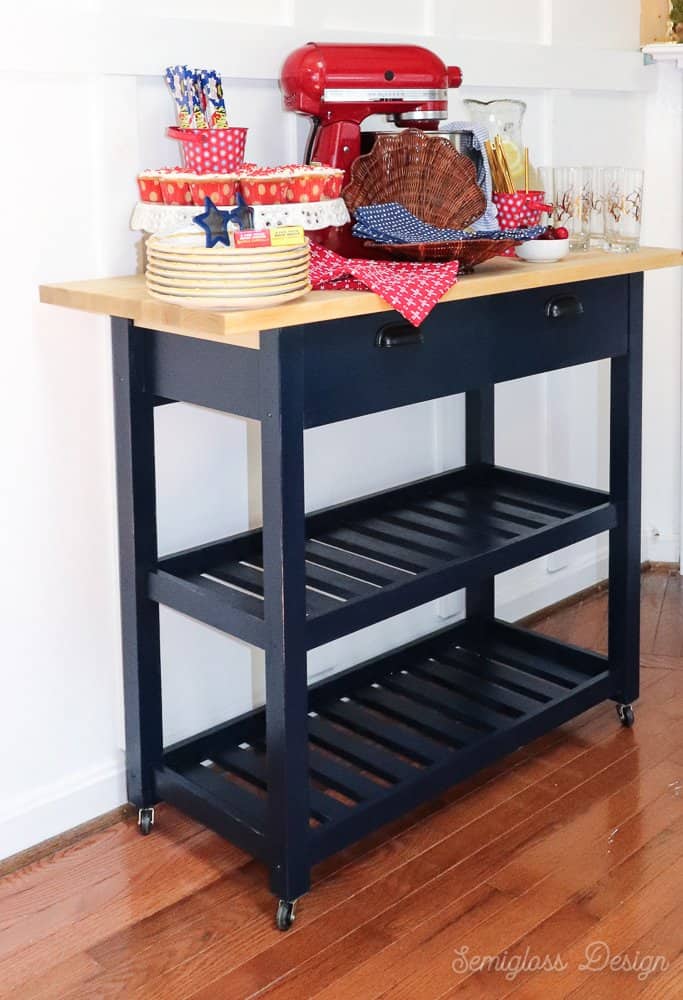 Ikea do a couple of plain wood kitchen trolleys that are ripe for an Ikea hack. This Forhoja hack from Semi Gloss Design turns it into a very stylish, dark blue trolley.
They have added some elegant brass castors and antique style cup handles to the drawers to complete the look.
Rustic Ikea Kitchen Trolley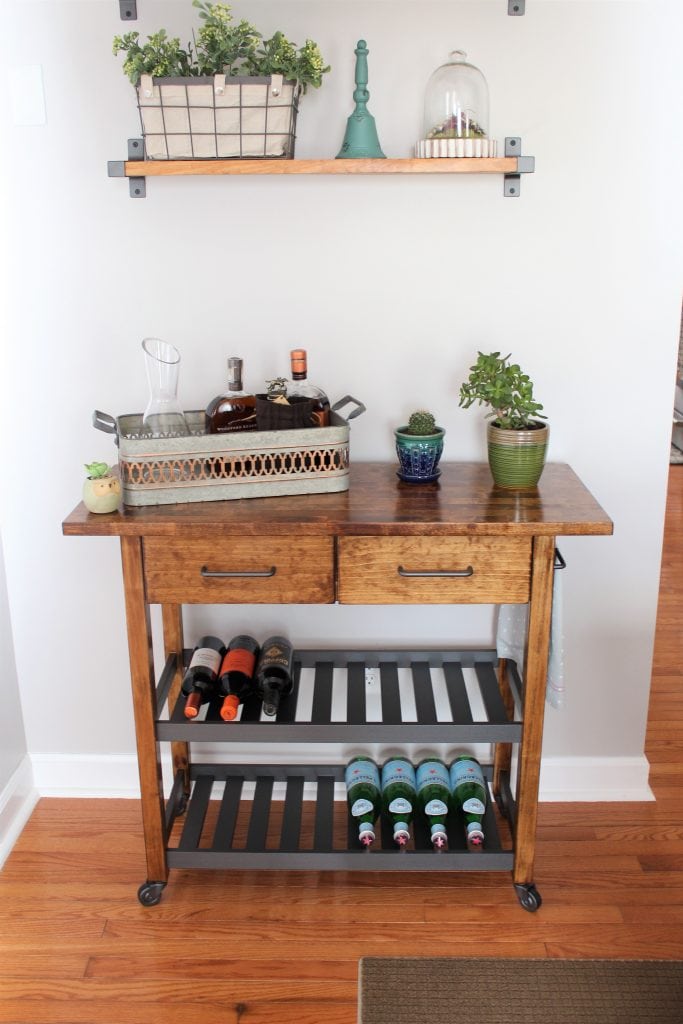 And here is another way of doing it! This trolley hack from Handmade Weekly turns the Forhoja trolley into a rustic cart that would fit perfectly into any farmhouse kitchen.
They have used a dark stain all over, with some grey paint for the slatted shelves. The castors are a matching grey and the thin towel rail and handles look great!
To create the drawer fronts they have used some reclaimed wood.
Custom Kitchen Pantry Drawers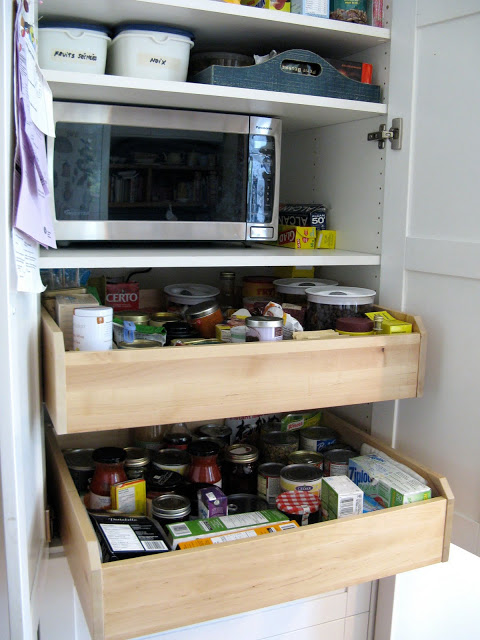 These custom drawers for the Ikea Pax system are a great idea from Ikeahackers.
We have drawers instead of cabinets in our base units and they are so much more useful for reaching all areas of the cabinet. Creating your own personalised storage system in your kitchen is a better idea than trying to make existing options work for you.
Designer Chopping Boards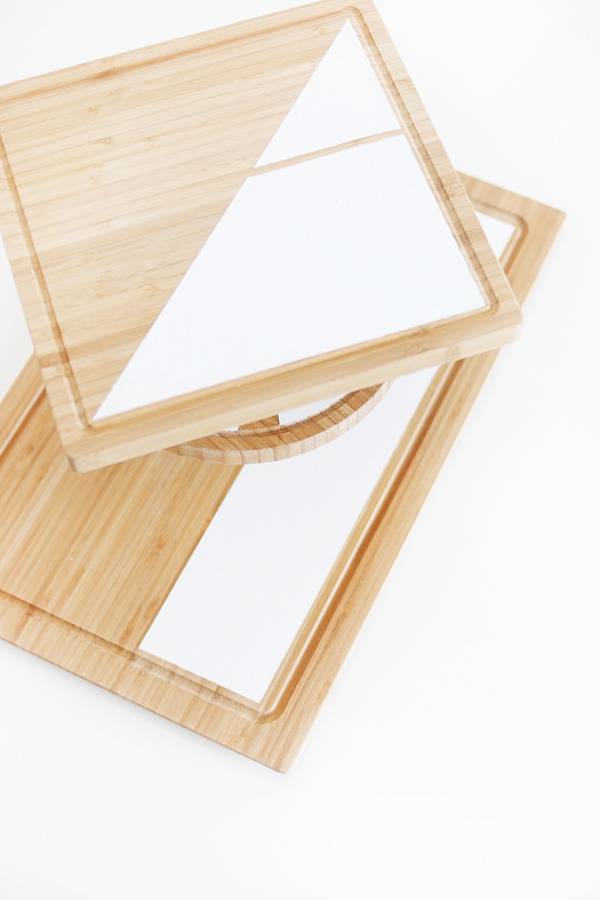 Who said chopping boards need to be boring? These painted chopping boards have been turned into a three-tiered cake stand by Curbly.
You can create your own designs on the chopping boards of course, to create the perfect stand for you.
Stunning Designer Kitchen Island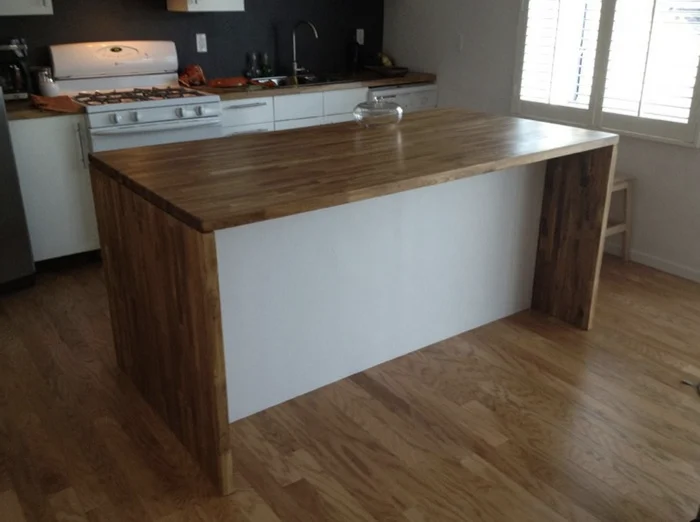 This stunning designer-looking kitchen island from Ikeahackers has been achieved with an Ikea Malm dresser, an Ikea kitchen cabinet and some Ikea worktops.
This sort of look would normally cost in the region of thousands of pounds but this is a wonderful way to have it for a substantially lower budget.
Bekvam Plant Shelves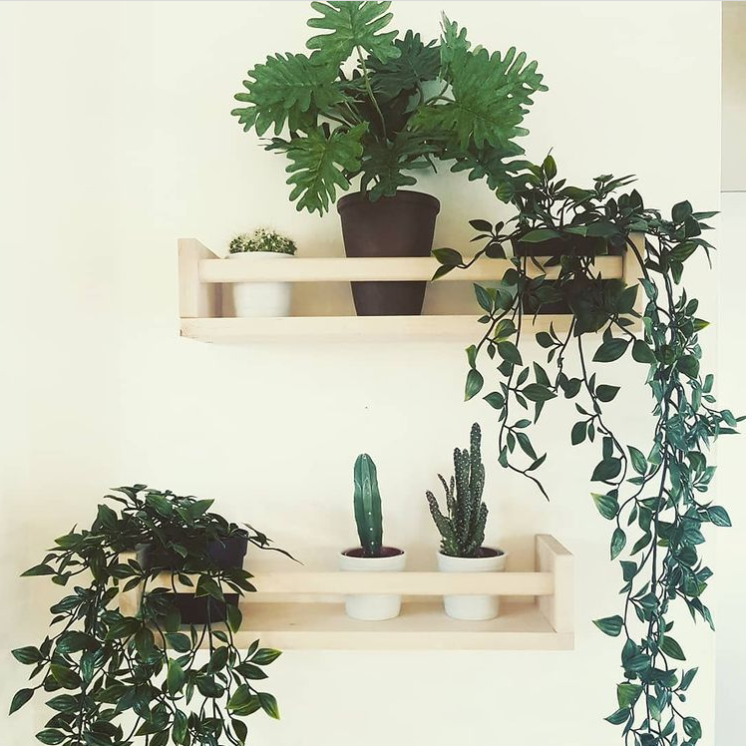 Another great use for the Bekvam spice rack is as a home for your indoor plants. This great example, which admittedly isn't really a hack, from @mmmmhome on Instagram shows what you can do.
You could create a rather simple vertical garden in this way with several of these racks, especially with the cheap cost of the Bekvam spice rack.
Stunning Turquoise Mobile Island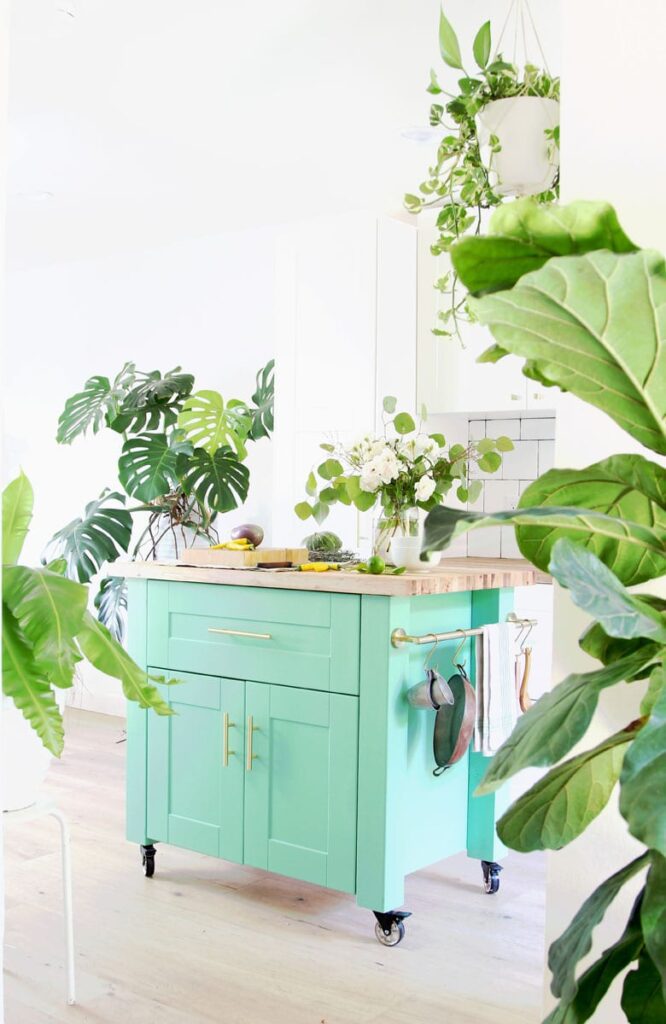 There have been other islands and trolleys in this post, but this one is by far the most impressive of the lot. It is from A Piece of Rainbow and they have used an Ikea kitchen cabinet to create this large mobile kitchen island.
We love how the colour stands out from the rest of the kitchen to identify it as a stand alone piece of kitchen furniture.
Textured Kitchen Cabinets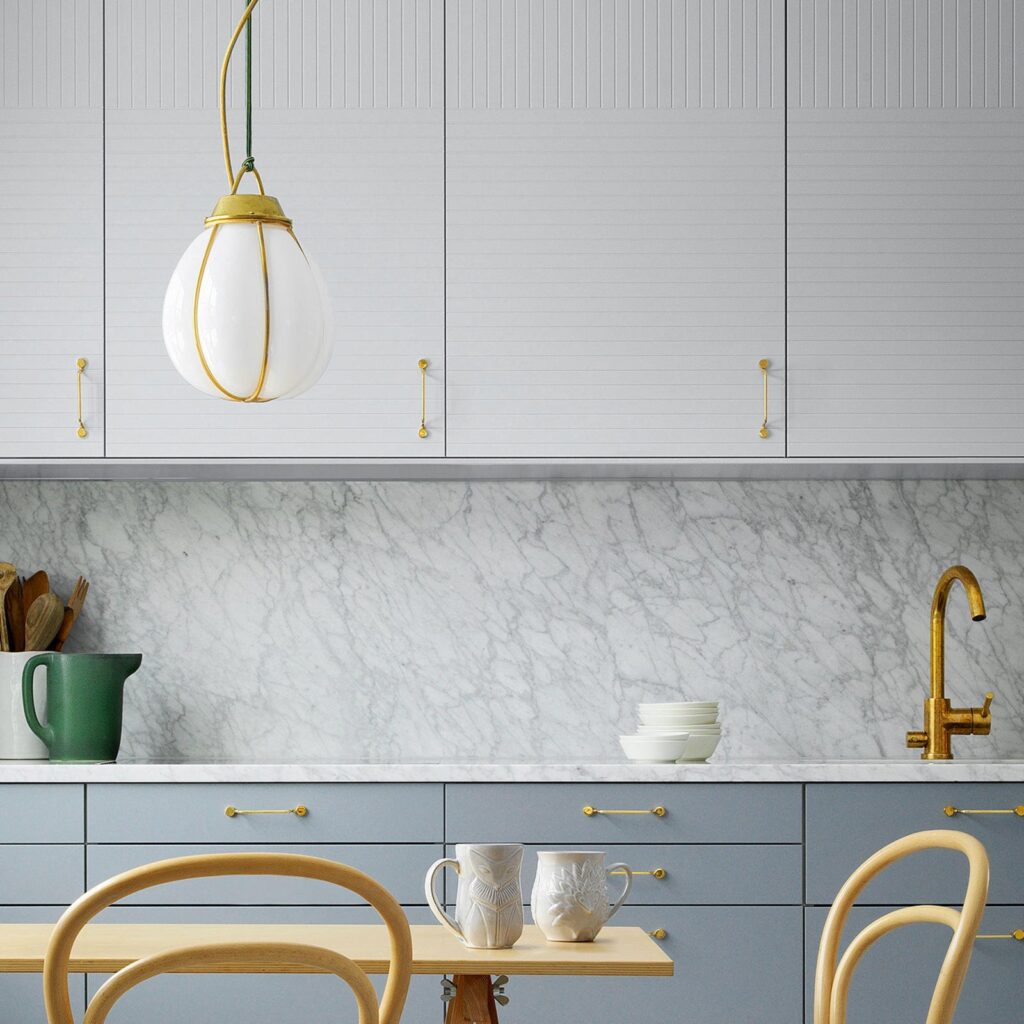 Take your basic Ikea kitchen cabinets to a whole other level with these stunning textured cabinet fronts from SuperFront.
This is a great way to save money on your kitchen, but still make it look like a high-end, designer kitchen.
Wall of Pantry Cupboards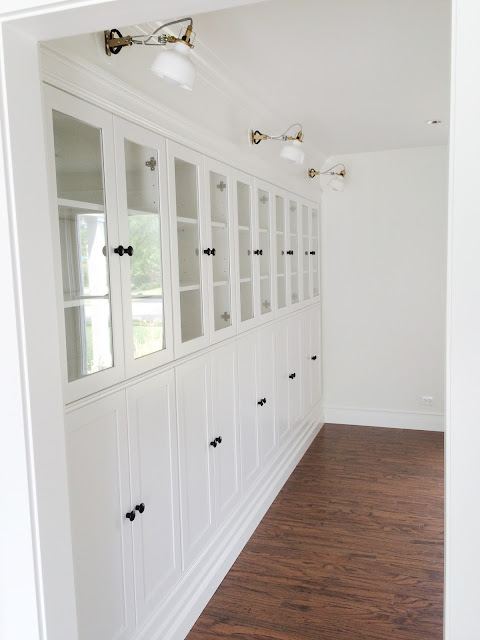 This fantastic Ikea hack from Avery Street Design uses Ikea Borgsjo bookcases to create a wall of pantry cupboards in their kitchen.
They have made it all look custom built by framing it with floor and ceiling trims.
It's a great way to get a pantry without having to create a walk-in room.
Kallax Kitchen Island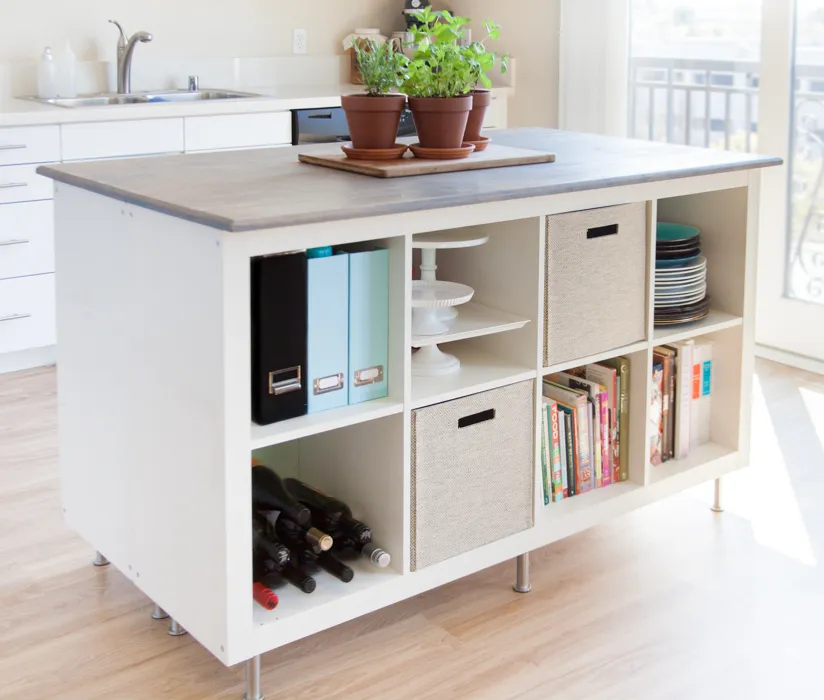 This is a rather more simple way of achieving an island in your kitchen. At Kreating Homes they have used Kallax units as the base for a kitchen island, adding a worktop and legs to really transform it.
There is loads of open shelving created underneath.
Ikea Raskog Plant Stand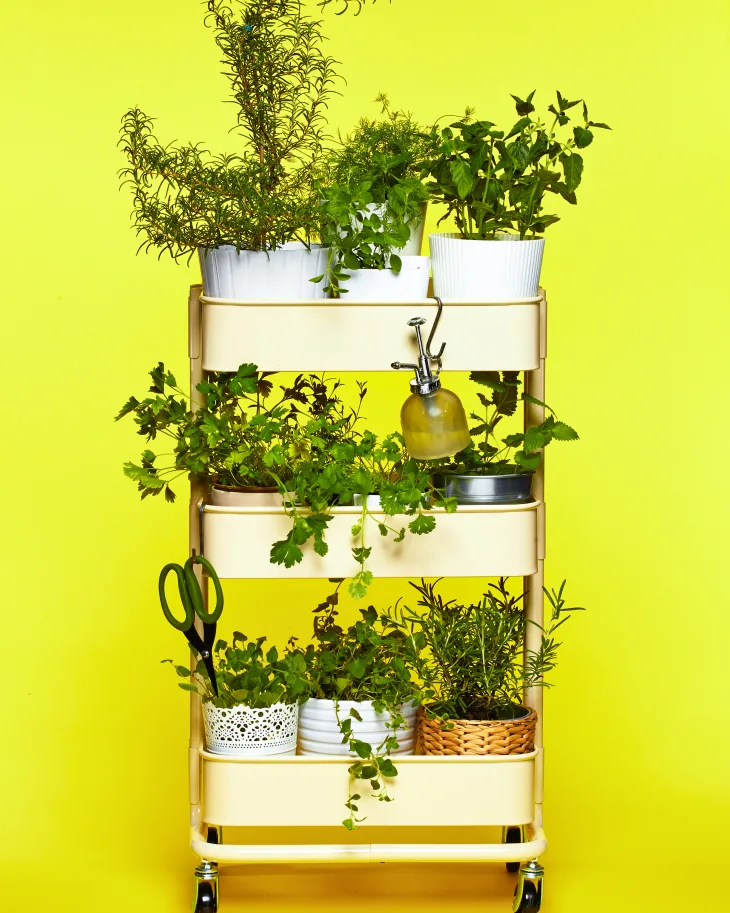 There may not have been much hacking here, but it is a fantastic way to use the Raskog trolley.
We are big fans of indoor plants, and this setup featured on The Kitchn is a great way to house them all without them having to get in the way.
Napkin Utensil Hanger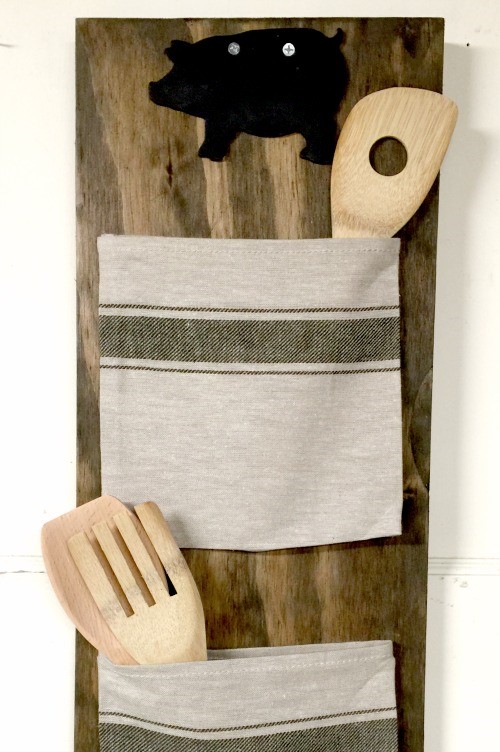 This hack from Home Road is a clever way to steal some wall space for storage, while adding a bit of farmhouse charm to your kitchen.
All you need is a bit of reclaimed wood and some Ikea napkins.
---
These Ikea kitchen hacks have all been created to fulfil a need and I hope some of them have given you the inspiration to add something unique and low cost to your kitchen.
Let us know if you have any great Ikea kitchen hacks of your own to highlight!
---
Related Posts: