Making the most of wall space in a room is vital to create a cohesive look. All that blank space needs to be softened with something that ties it into the room. You don't want to be sitting in a white (or whatever colour your room is) box, do you?
Wall decor can come in many forms, not just artwork, but where do you start? You don't want to just throw any old wall decor up but you're struggling to come up with your own wall decor ideas.
It can be daunting thinking of what to put up there, but it really should be fun!
We're going to take you through some great options that are both easy to achieve and not too expensive.
---
Large Artwork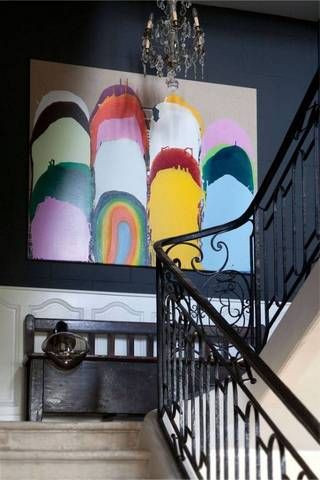 Let's start with the obvious. Artwork is what you first think of when you want to put something on a wall. But then you start wondering what the hell you actually want to put up there and whether it's going to get expensive.
There are several ways to achieve this without spending thousands.
Make your own – You can buy a huge canvas for less than £100 ($125). That's the hard part. You get to do whatever you want with it after that. We suggest finding something abstract in one or two colours that you like and trying to recreate it. Get some cheap acrylic wall paint and go for it! Here is a great round-up of abstract art tutorials from Apartment Therapy. If a canvas is too expensive, get a sheet of 6mm (1/4″) MDF and paint it white for a much cheaper painting surface, just make sure you attach it to the wall securely! Take inspiration from beautiful abstract prints you see, such as the one above which, let's face it, is just a load of big semi-circles that have been allowed to drip a little!
Print an image at large scale – There are tons of great digital prints available at places like Etsy. All you need to do is send that image to an online printing company and get it printed in a large size for less than £50 ($62). To save money on a frame, make your own with this great hack from A Beautiful Mess.
Paint a mural – You can paint a mural directly on the wall, thereby saving even more. This is easier than you think. Check out this guide from Art Is Fun. To make it look like a huge picture, add a wooden trim around the outside and it will look like a picture frame!
Fabric Wall Hangings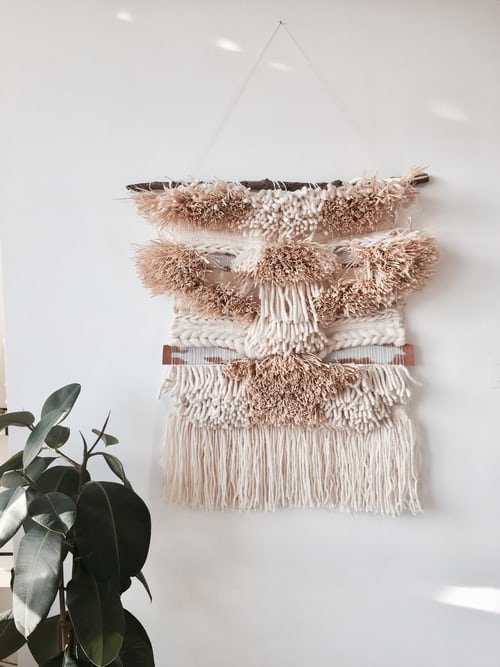 I know you're imagining huge tie-dyed wall hangings in student digs! This is going to be far more sophisticated though!
There are so many options, but one place to start is a vintage rug. If it's good enough to adorn your floor, then why not the wall? You don't have to spend a fortune on it either. Even a 2×3 foot rug from Anthropologie is less than £50 ($62) and we all know they're not the cheapest place!
Alternatively, why not create your own from offcuts of fabric. This fantastic tutorial from Sugar and Cloth creates a gorgeous multi-coloured wall hanging.
Woven wall hangings are all the rage too right now and you can definitely make your own version. Check out this tutorial from Sustain My Craft Habit.
Gallery Wall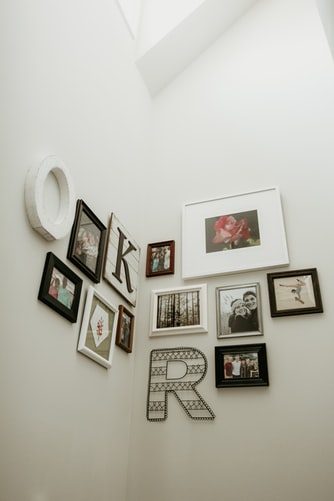 Gallery walls started being really popular a while back, and there is no reason for them to go out of fashion. There are so many ways you could go about it that it will always be a fresh idea.
The simplest thing you can do is print off all your best photos and use cheap frames (Ikea anyone!?). You could stick to a theme (family, holidays, random photos).
You can also find any image you like online, as long as the quality is good you can blow it up reasonably large. As long as it's just for use at home, no-one is going to be coming after you!
Arranging your gallery wall can be a completely random act, or it can be a fie art. It depends how fussy you are! If you want to be spot on with your gallery wall layout, take a look at this handy guide from A Pretty Fix.
If you don't fancy measuring gaps and sticking templates to the wall to get it right, why not consider a cheap picture shelf from Ikea and just sit all your pictures on that.
Feel guilty that you don't like putting your kids art up on the fridge or kitchen wall? Why not create a dedicated gallery for them that you can swap out old for new now and then. Put them in proper frames and really make your kids feel proud of their work!
Mirror Mirror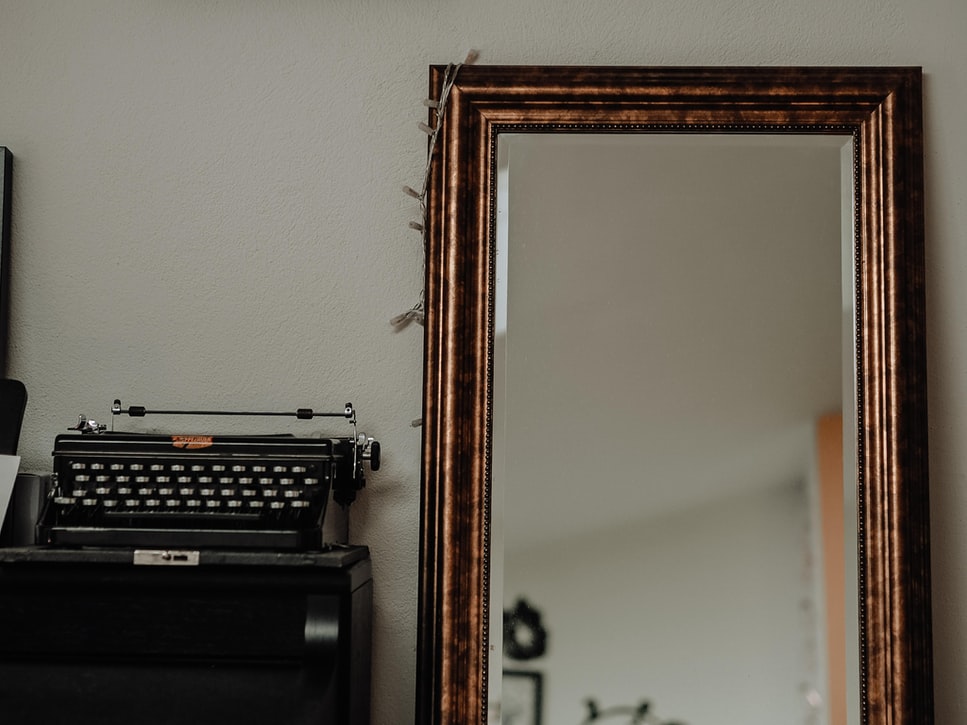 Mirrors are expensive though? Actually, no. If you shop in the wrong place (let's say, umm… Anthropologie!) then maybe. But to you and I, the quality of the mirror glass makes no difference and that is usually what you are paying for.
A cheap option can be finding a second hand large frame and getting a piece of mirror glass made for it.
Alternatively, you could collect a few vintage mirrors of different size and shape to create a wall collection.
Storage is Art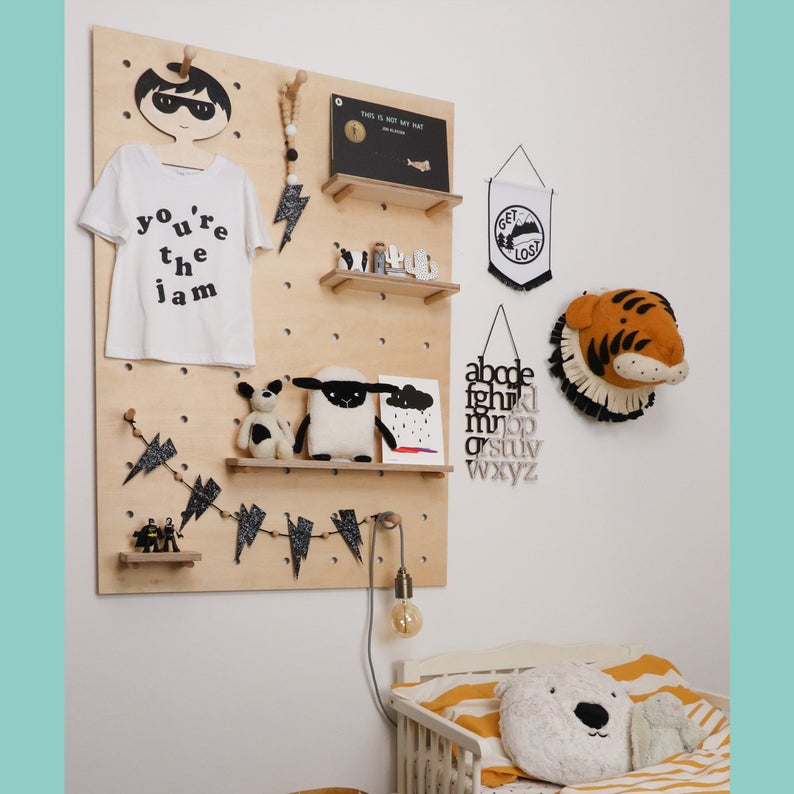 Ok, so we're not going to suggest a shelf with tins of tomato soup is going to blow you away every time you gaze at it (although, Andy Warhol…..). But there are several ways you could turn storage into something beautiful.
A metal grid noticeboard is a good start. You don't actually have to use it as a noticeboard, you could clip photos to it, cute messages, hang feathers or tassles. Just get creative!
Along the same lines, a peg board with shelves can take up a lot of space on a wall and can house objects such as books, pottery, vases of flowers, plants, you name it!
A tall bookcase against a wall is a good way to take up some wall space with something interesting. Check out our guide on how to style a bookcase.
Garlands are not Just for Christmas!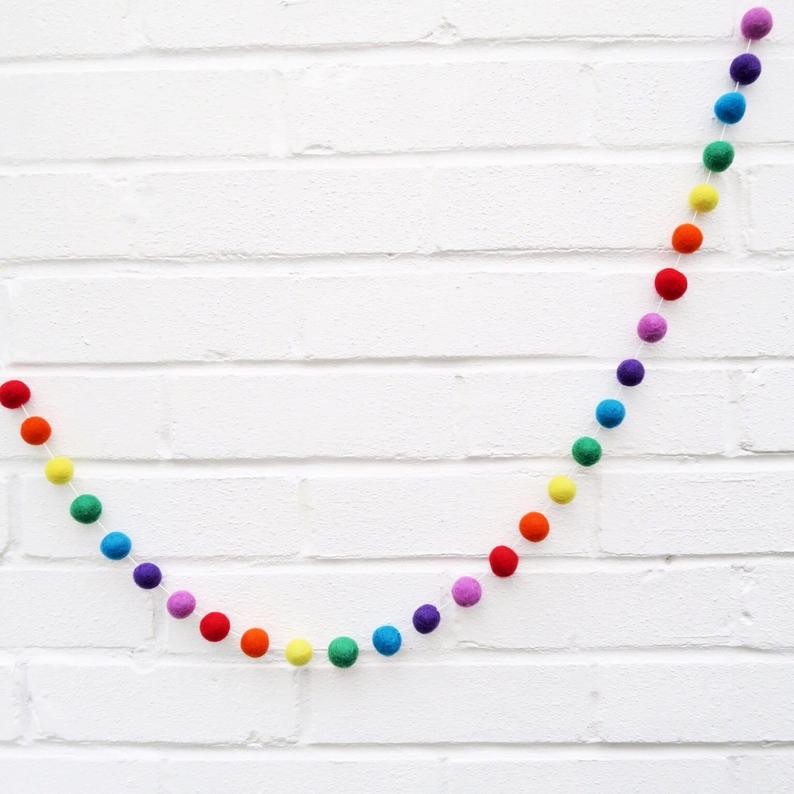 You don't need to leave your Christmas garlands hanging out all year, we're suggesting a year-round version that looks great and could even be dressed up at Christmas.
A good option here are pine branches, from which you can hang beautiful things. This is a very Scandinavian look. We particularly love this example from Words are for Writers which isn't really a garland, but you get the idea!
This faux eucalyptus garland from Pier 1 would also look great at any time of the year.
---
Decorating a wall doesn't have to difficult or expensive. Think outside of the picture frame and come up with something that makes you sigh every time you walk into a room. Whether that is a giant family mural, a surfboard fixed to the wall or a wall of plants.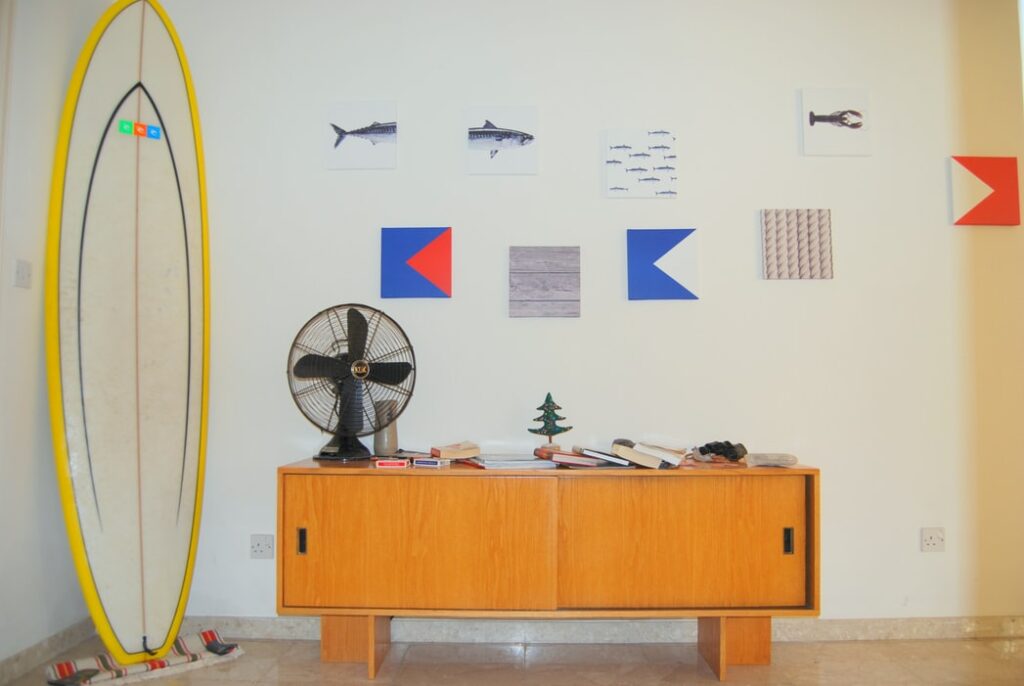 Have fun thinking of great wall decor ideas and let us know what you come up with. Hopefully we've sown the seed with some inspiration!