These Ikea Kallax hacks can help you solve your storage problems at home. The Ikea Kallax shelving unit is quite a basic piece of furniture, but it can hold a lot of things. If you upgrade it with an Ikea Kallax hack you can turn it into a gorgeous storage element that helps organise your home.
We have found all the best Ikea Kallax hacks to give you a range of ideas to suit different decor styles. There is sure to be something here that fits your own style or gives you the inspiration to create something unique.
All of these ideas are quite easy to recreate and are really cost-effective. You'll be surprised how good you can make the Ikea Kallax shelves look.
---
35 Ikea Kallax Hacks
Mid-Century Modern Sideboard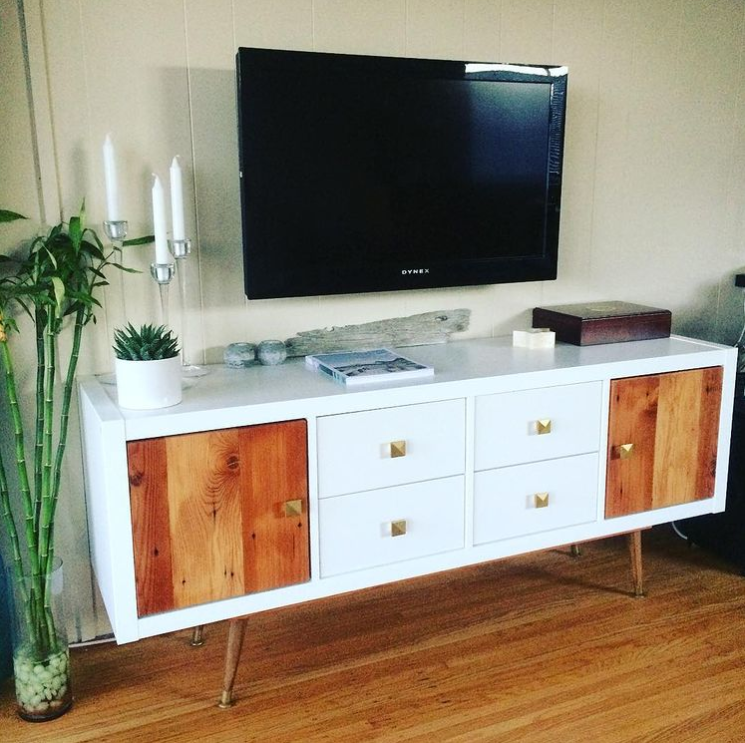 This is a great Ikea Kallax hack to start on as it shows just how much of a transformation you can make with a couple of tweaks.
This sideboard hack from @aeonveradesign on Instagram uses tapered mid-century legs to raise the Kallax unit up and some solid wood doors to add some contrasting materials.
The final touch of the square brass knobs adds so much to the overall look.
Grey Cubby with Coconut Leaf Inserts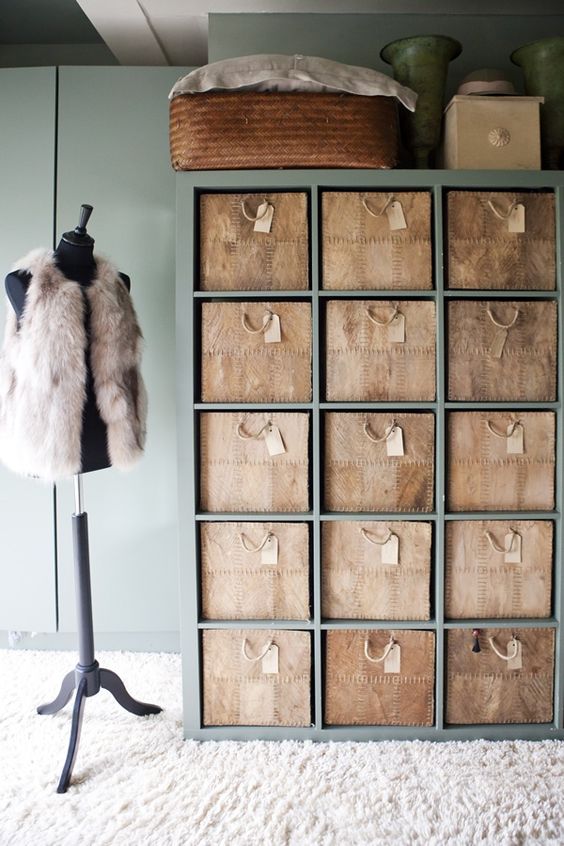 This Ikea Kallax hack uses coconut leaf inserts and grey paint to create a gorgeous combination of colours and textures.
The coconut leaf inserts are hard to find nowadays, but there are many other options you could go for just by searching for 'Kallax inserts'.
A great way to transform the Kallax shelves is to just paint them, as they have done here. You can paint laminate materials like this by following a few guidelines. We found a great resource for this at Hacksaholic.com.
Banquette Seating Storage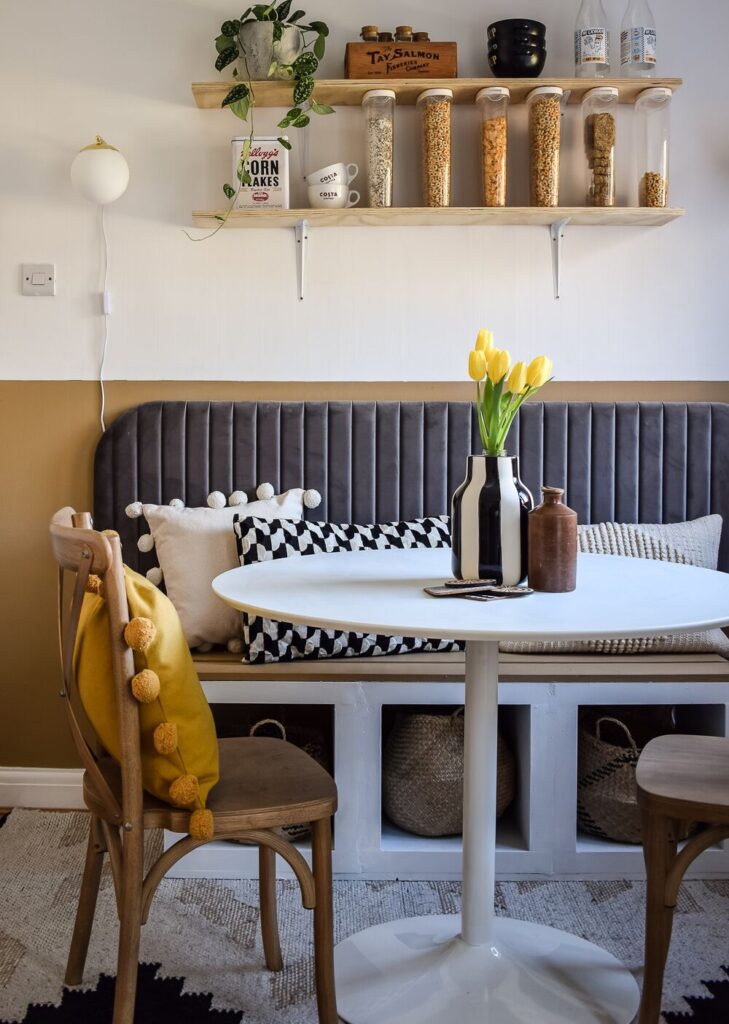 Over at Grillo Designs they turned the Kallax shelving unit into a stunning banquette storage bench.
Some handy baskets in each section keep the storage stylish and practical.
Where they have used wood filler to fill the gaps, it might be better to use caulk or sealant to get a neater finish, but it looks amazing none the less! We especially love the upholstered headboard as a back rest!
Marbled Kallax Doors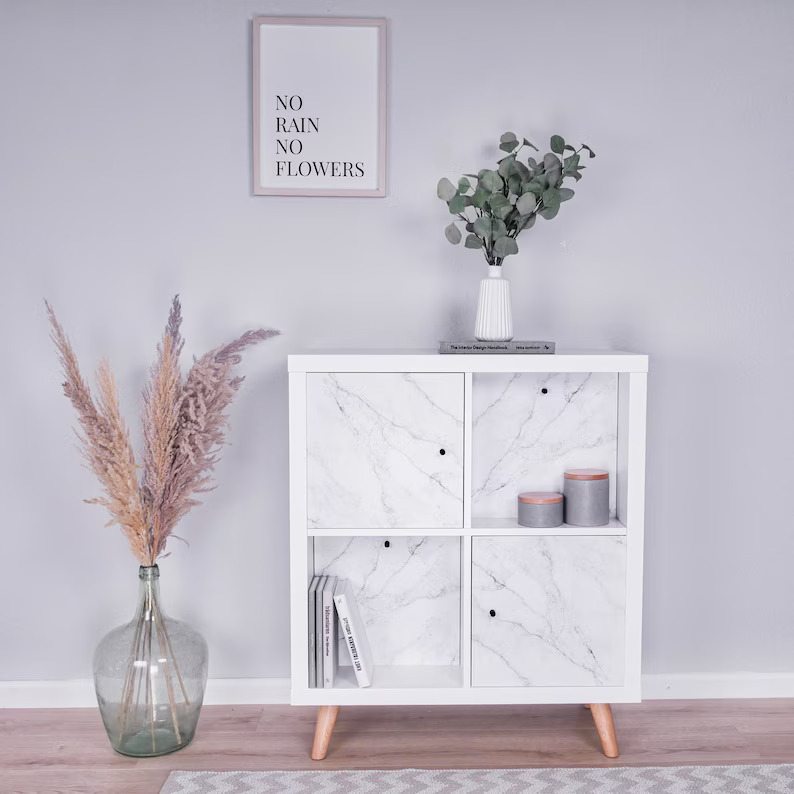 There are many products available that make Ikea Kallax hacks easy to carry out and this awesome marble effect door from Clutter Cover on Etsy is one of the best!
They are so easy to install and you don't need separate inserts as you do with the Ikea Kallax doors.
Black and White Lockers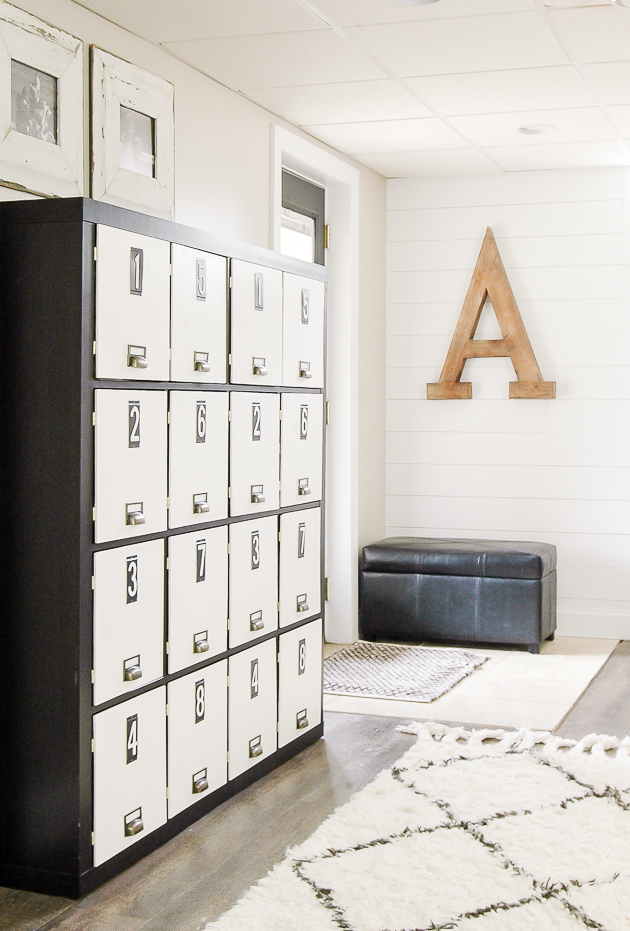 To create a bit of an industrial look, this hack from Little House of Four turns the Kallax into lockers.
We love the contrast of the black and white and the attention to detail with the numbers and locker labels.
Super Organised Craft Storage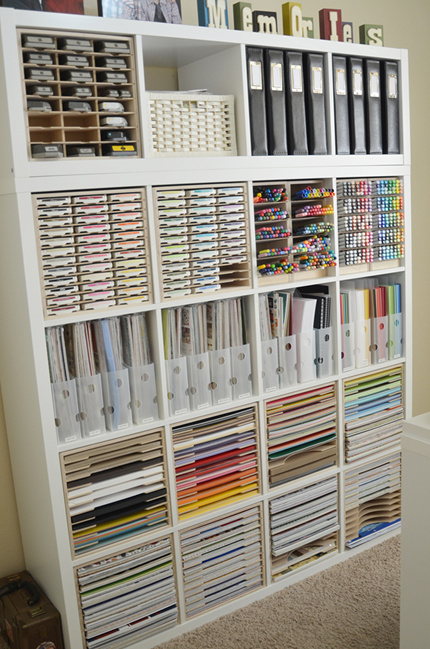 We'd love to be as organised as this with our craft supplies. This Kallax insert hack from Stamp and Storage will appeal to any crafter out there!
Using a combination of several different inserts and boxes, they have created storage for a huge range of craft supplies.
The great thing about Ikea hacks are often the custom made products people create to be used with Ikea furniture.
DIY Bookcase Dollhouse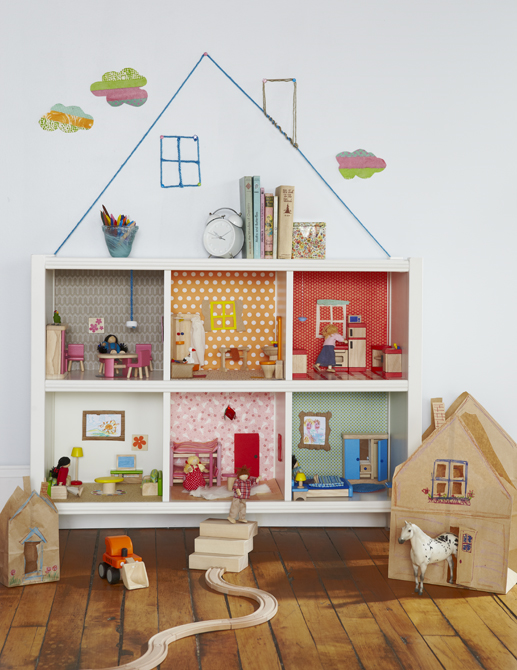 Let's look at what you can make for kids out of an Ikea Kallax bookcase. This hack from Create & Kids uses a Kallax bookcase to make an amazing dollhouse!
You really don't need to go to great expense when giving a dollhouse to your kids, you just need to create the space and their imaginations do the rest!
We love the wallpaper used at the back of each room!
Striped Banquette Seating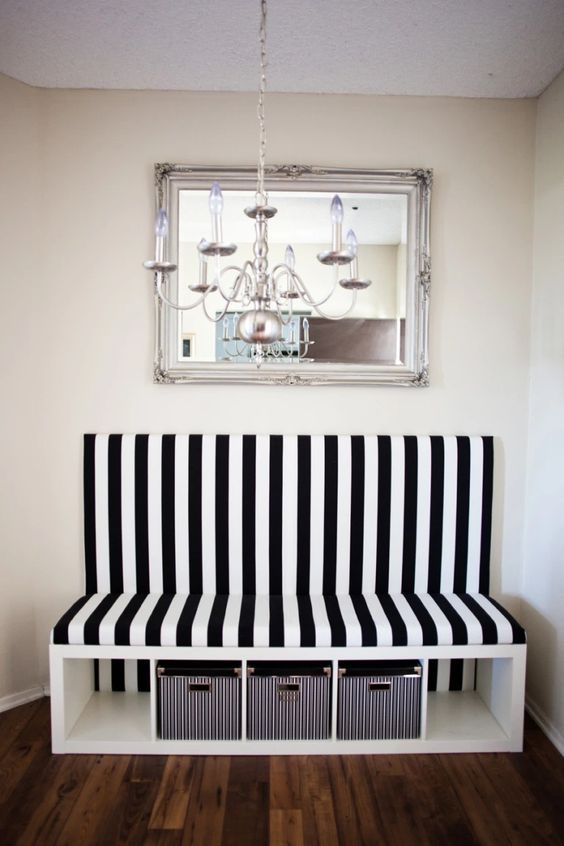 Another great banquette seating Kallax hack is this one from Melo Drama. They have simple added some foam padding to the top of the Kallax shelving and covered it with fabric.
We love the spripy fabric they have used for it's impact and the oversized backrest in the same fabric.
Luxury Sideboard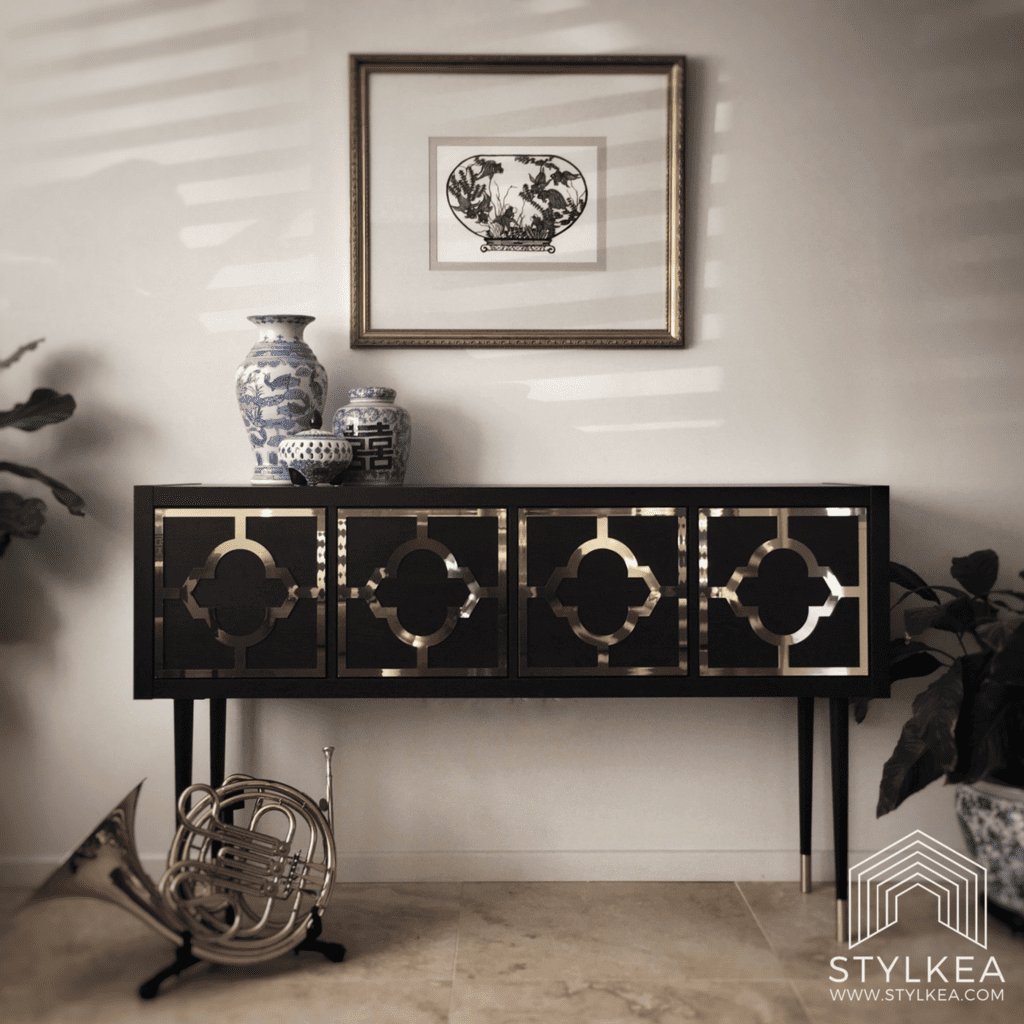 This is a great example of how much of a transformation you can make to the Kallax. This hack from Lux Hax creates a stunning sideboard with elegant tapered legs (from Pretty Pegs) and mirror effect ornate panels.
You would be hard pushed to recognise the Ikea Kallax in this hack.
Lux Hax specialise in the mirror effect (and other) panels that you see on the front of the sideboard here.
Wood Lined Sideboard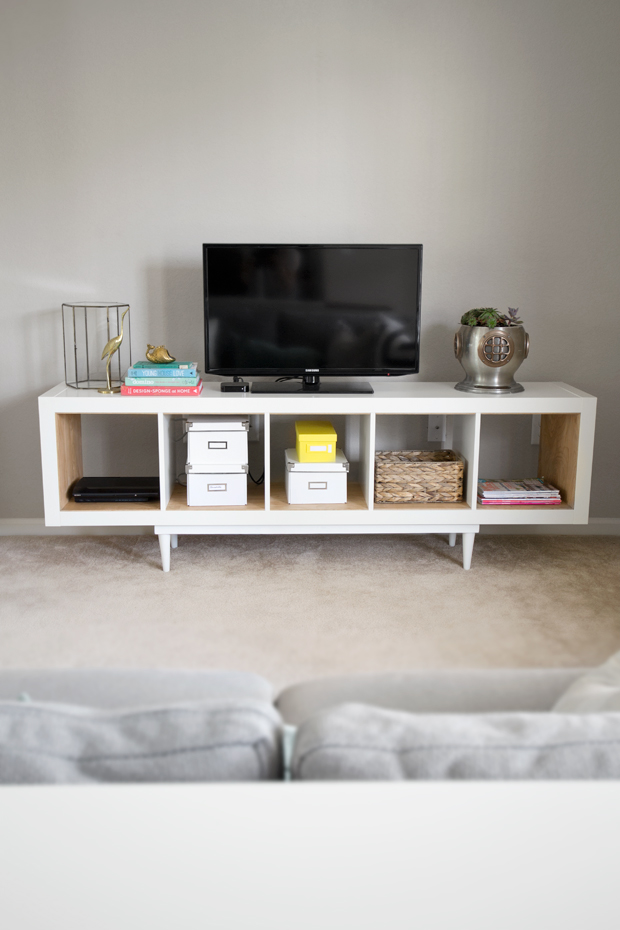 This simple Ikea Kallax hack from Infarrantly Creative uses the classic combination of white and wood grain to great effect.
They have used some thin birch plywood panels on some of the surfaces of the Kallax unit.
The addition of some legs from an old chair to raise the unit up and give it a bit of a mid century modern look at relatively low cost.
Art Deco Geometric Pattern Doors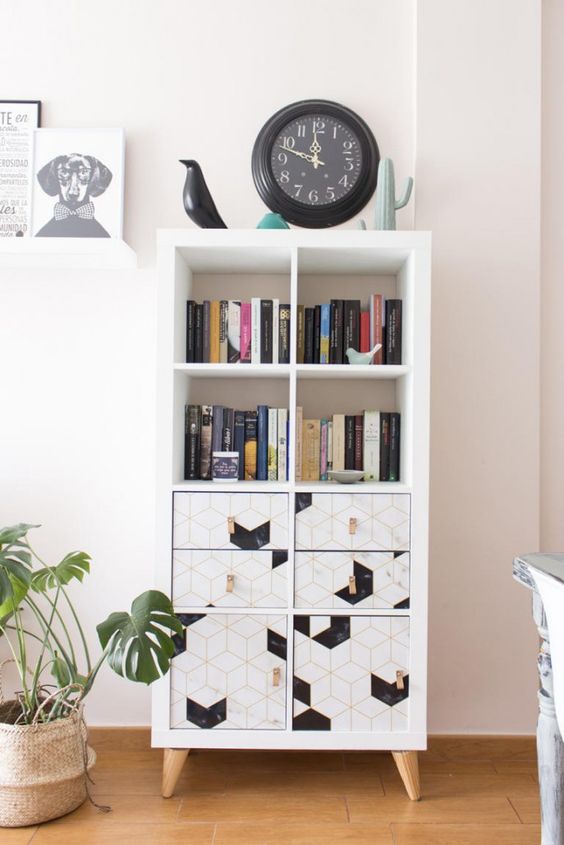 The patterns on these art deco geometric panels from Lokoloko are gorgeous. You simply buy the panels and cut them to the right size for your Kallax unit inserts and stick them on.
Here they have kept a combination of open shelving along with the patterned sections which looks great, especially if you have some nice things to display.
We love the simple wooden tapered legs they have added to the bottom!
Fluted Front Kallax Hack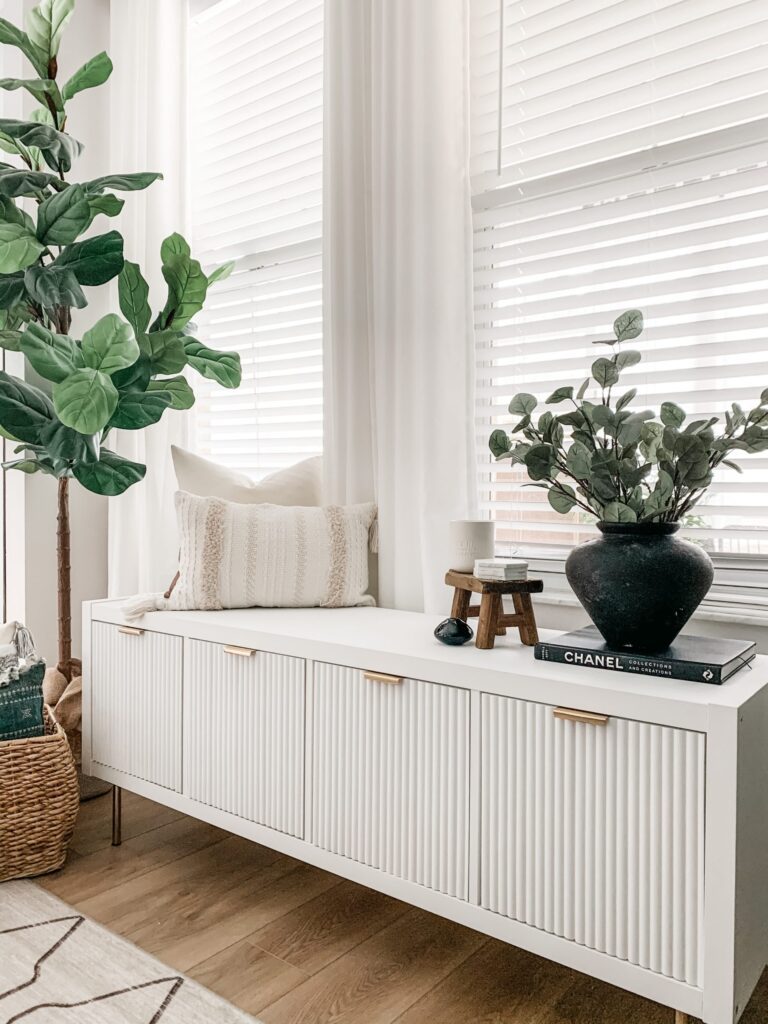 This is a gorgeous transformation of the Ikea Kallax unit from XO My Home. They have used fluted trims to create a high-end look on the fronts of the units.
We love the added touch of the brass handles to add a little extra elegance!
Wooden Crate Inserts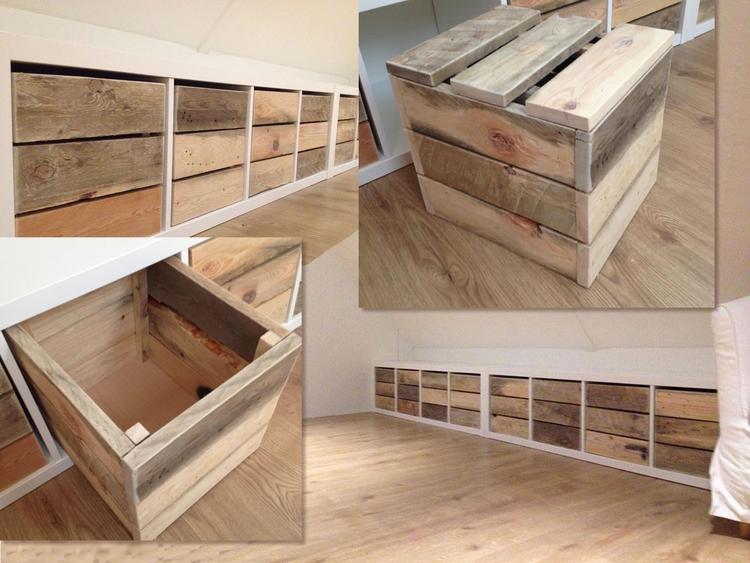 These wooden crate inserts specially made for the Ikea Kallax bookcase by Obskisten Online will completely transform the way your Kallax looks.
They only ship to countries around Germany sadly, but I doubt they are the only place making these!
Kids Raised Bed with Storage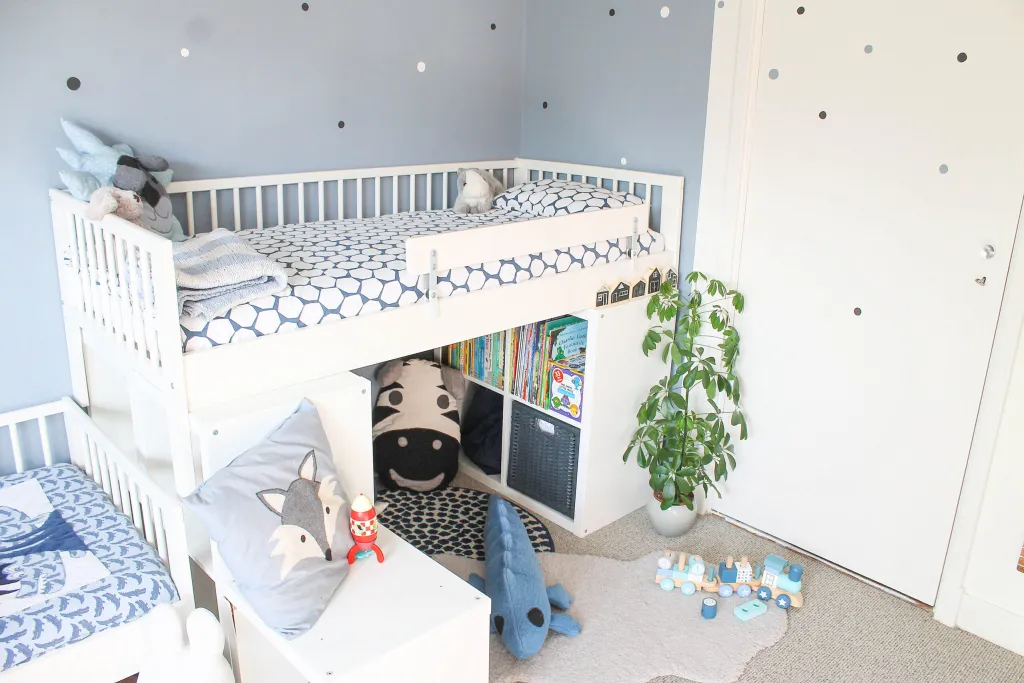 This is an awesome way to use the Ikea Kallax shelving. Barefoot Beachbird have created this Ikea Kallax hack to make a cosy book nook under the raised bed.
There is plenty of storage for books, toys and teddy bears. It could even be used for clothes and bedding.
Apothecary Cubby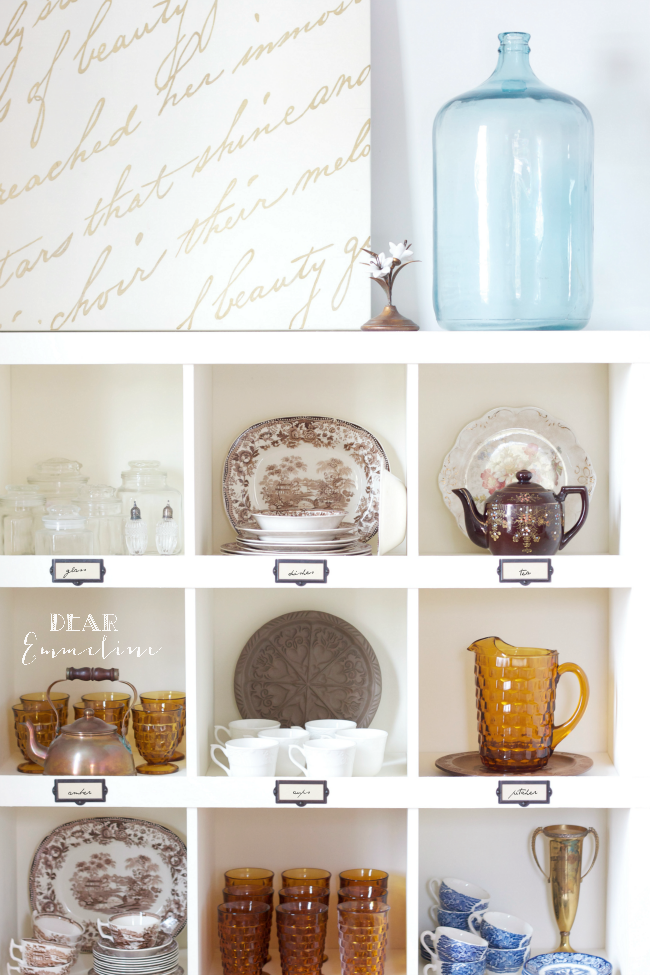 Petal and Ply have created an awesome apothecary cubby with this great Ikea Kallax hack.
It was inspired by a similar product from Pottery Barn and we love this method of doing an Ikea hack by recreating existing pieces.
All they needed to do was add some strips of wood to create a lip and then some locker labels.
From Kallax to Cabinet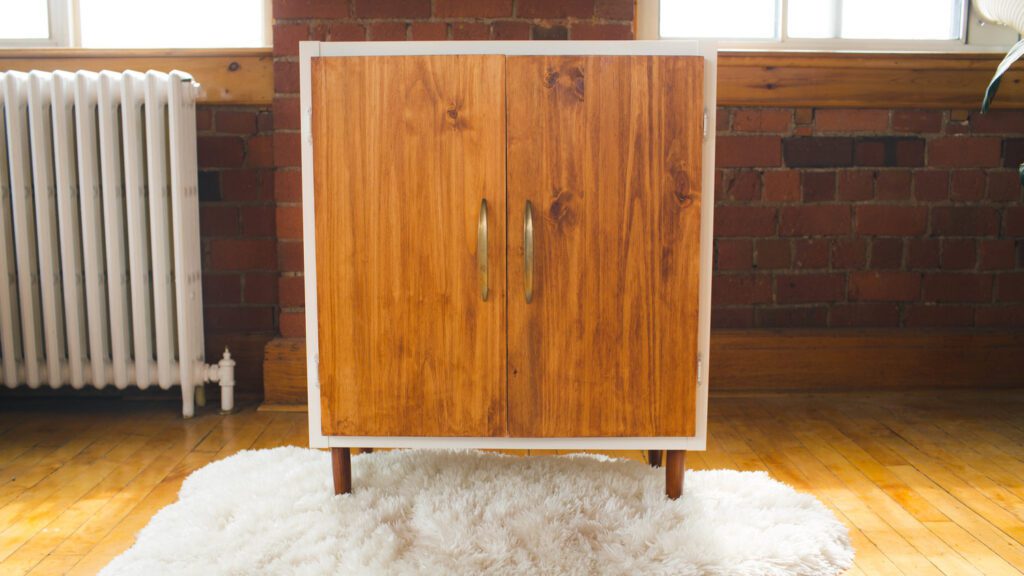 Is this really an Ikea Kallax hack? Is there a Kallax unit behind that? Yes, indeed!
This hack from The Sorry Girls (no need to apologise!) uses a Kallax shelf with some wooden doors fitted to the front and some simple peg legs.
The effect is fantastic and shows just what you can do with a bit of creativity.
Simple Kallax Hack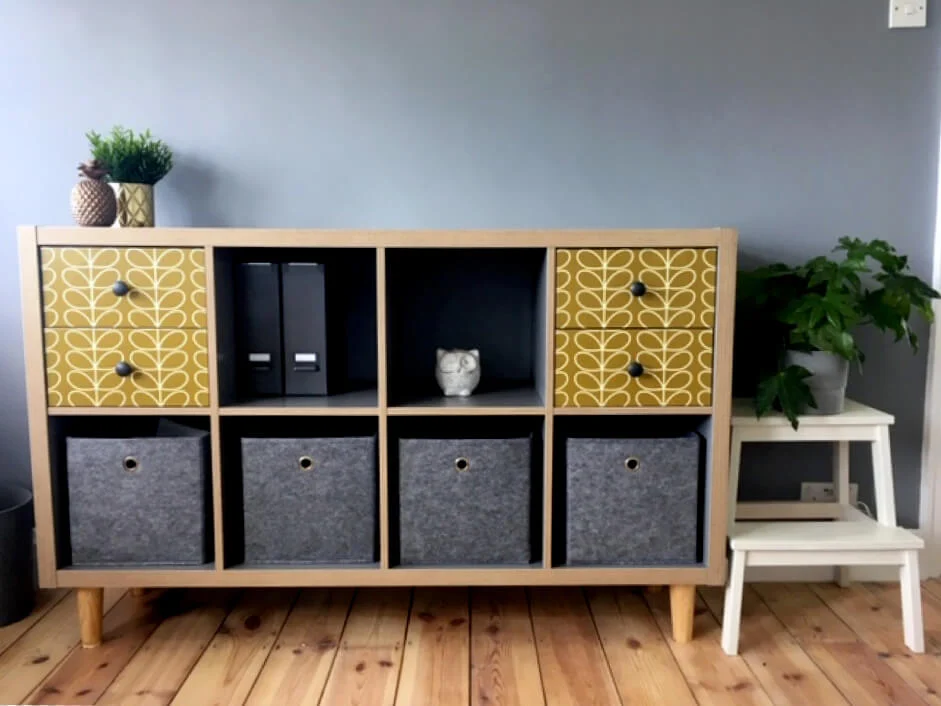 Probably the simplest hack of the lot from Ikeahackers, this Kallax unit is raised up on short, tapered wooden legs to instantly turn it into a sideboard.
They have added some wallpaper to cover the drawer inserts in the same style as a coffee table in the room which ties everything together nicely.
Mid-Century Kallax Legs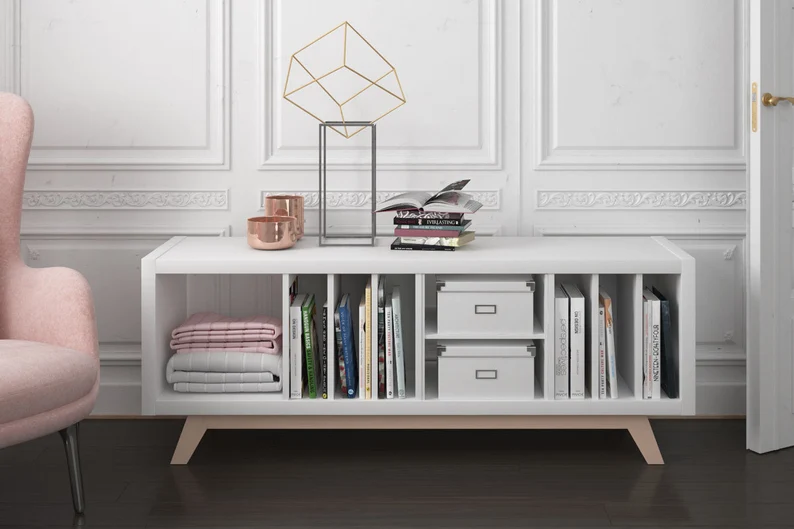 I stand corrected, this is actually the simplest way to hack a Kallax into a sideboard. New Swedish Design on Etsy offer these ready-made leg frames that you can simply sit your Kallax unit onto.
Instant sideboard indeed!
Hallway Storage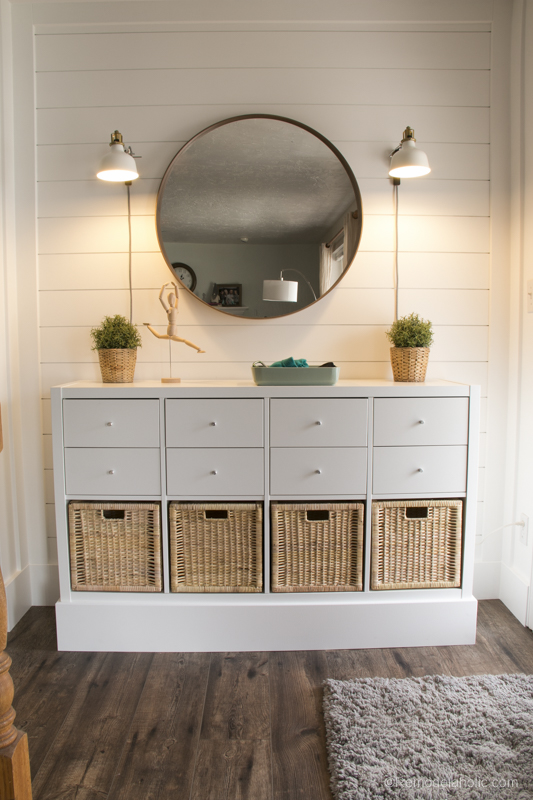 Another way to raise the profile of the Kallax is to sit it on a wooden frame and then add skirting or base boards around the outside.
This hack from Remodelaholic does just that in their hallway and it looks great!
Add in some basket storage and the look is complete!
Ikea Kallax Bar Cart Hack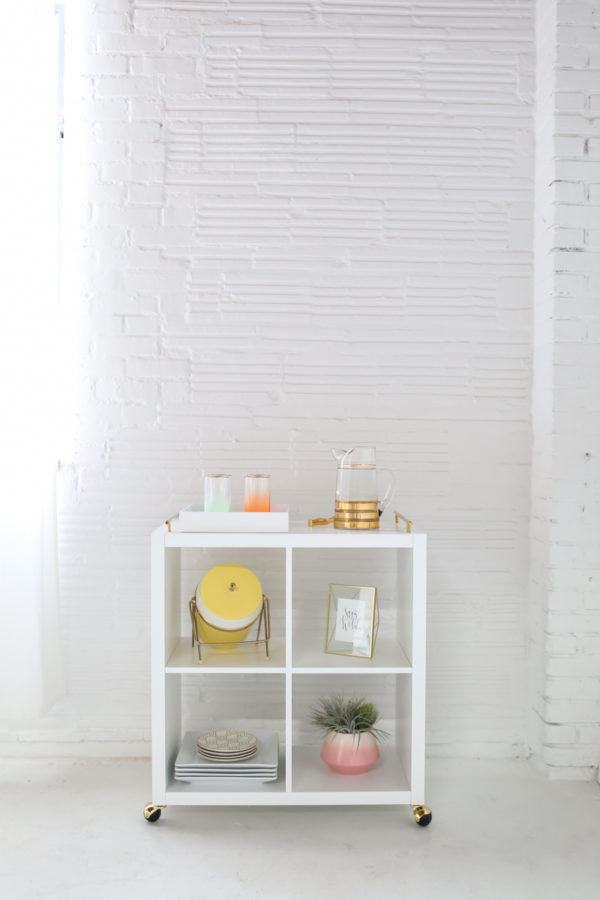 We love a hack that involves drinks in some way and this bar cart hack from Sugar and Cloth is perfect!
All they needed to do was add some gold castors to the bottom and some bar handles to the top.
Oh and some drinks and bar tools!
Wine Rack Inserts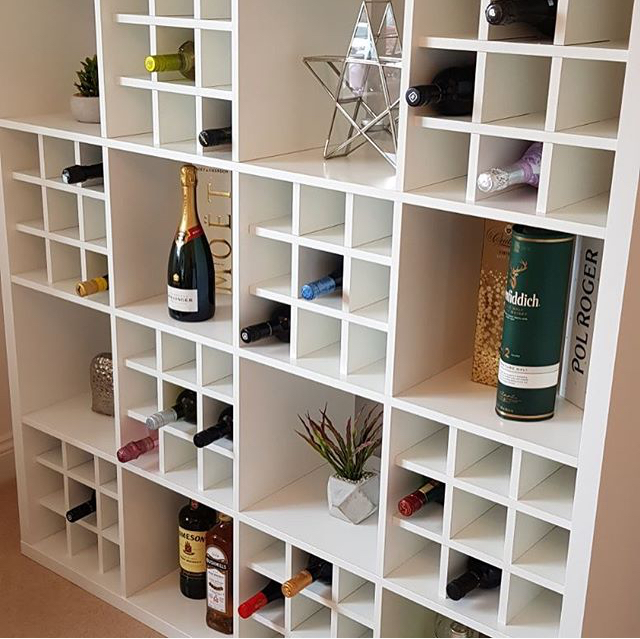 And just like buses, along comes another drinks hack for the Kallax!
These wine rack inserts from New Swedish Design turn your Kallax shelving into a wine rack.
Now the choice for you is whether you get a small 2×2 Kallax unit or a full 5×5 piece!?
DIY Rustic Cube Shelves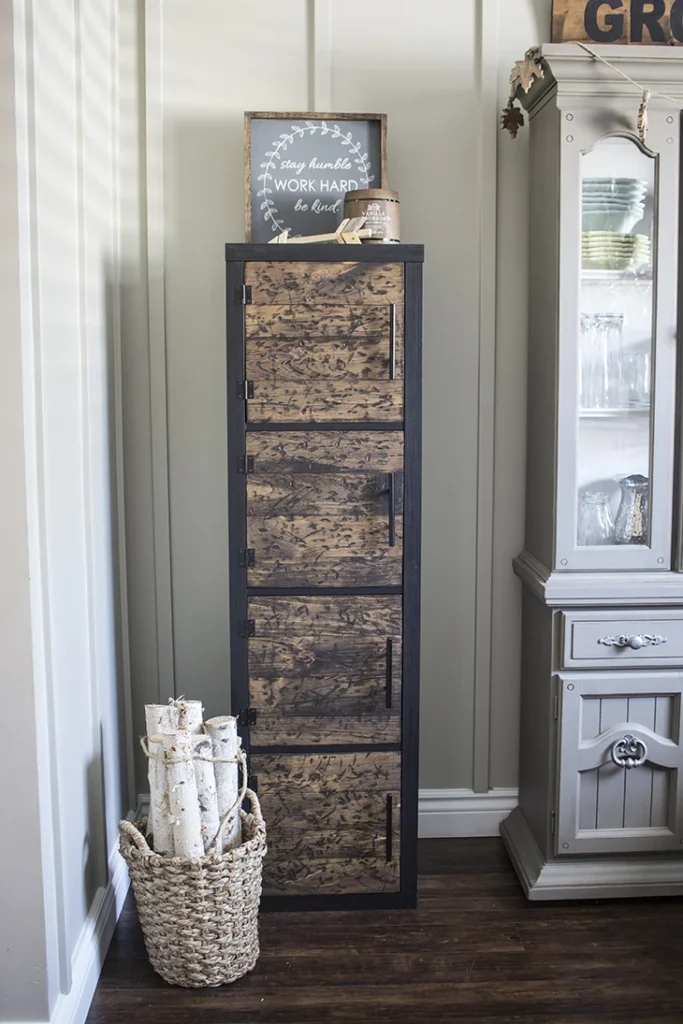 This rustic cube shelf from Home Made Lovely has been carefully designed and made to create something perfect for a farmhouse style room.
We love the distressed wooden doors they have made to create that rustic look.
Stacked Kallax Shelving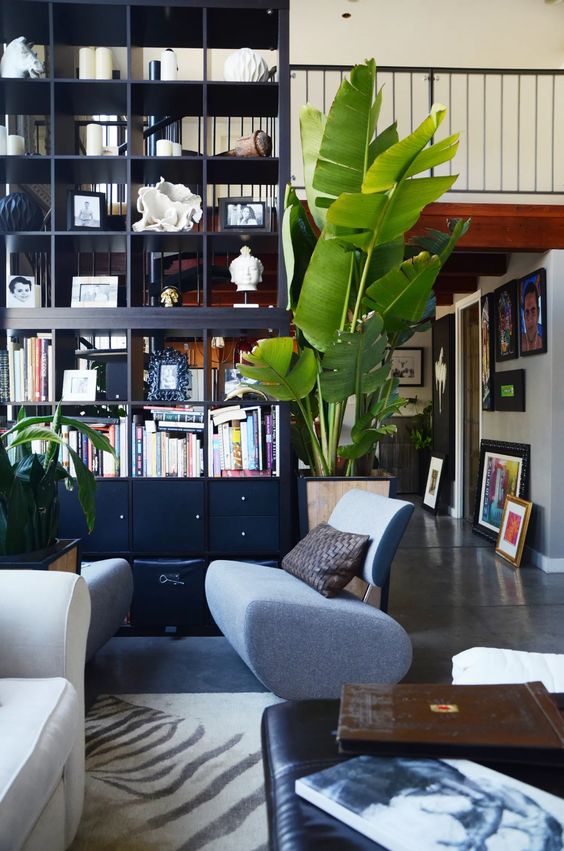 If you have a lot of ceiling height and don't know how to fill the space then this Kallax hack featured on Apartment Therapy might just be your solution.
There are actually three Kallax bookcases stacked on top of each other here. The photo just wasn't big enough to show them all!
Farmhouse Style TV Unit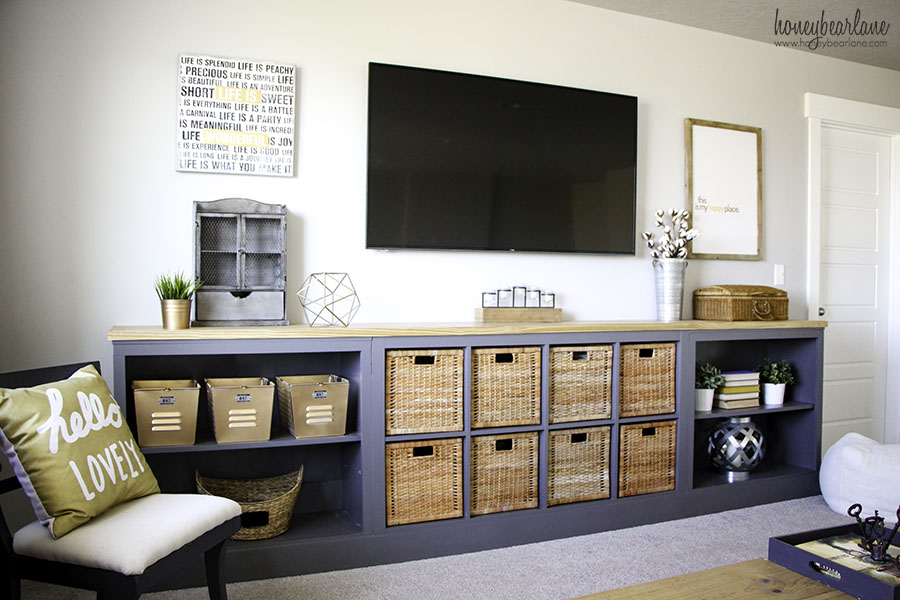 This large Media unit made from Ikea Kallax units that were painted a blue grey and have had a wooden surface fitted to the top looks great!
This hack is from Honey Bear Lane and it gives a wonderful farmhouse look to the room.
Room Divider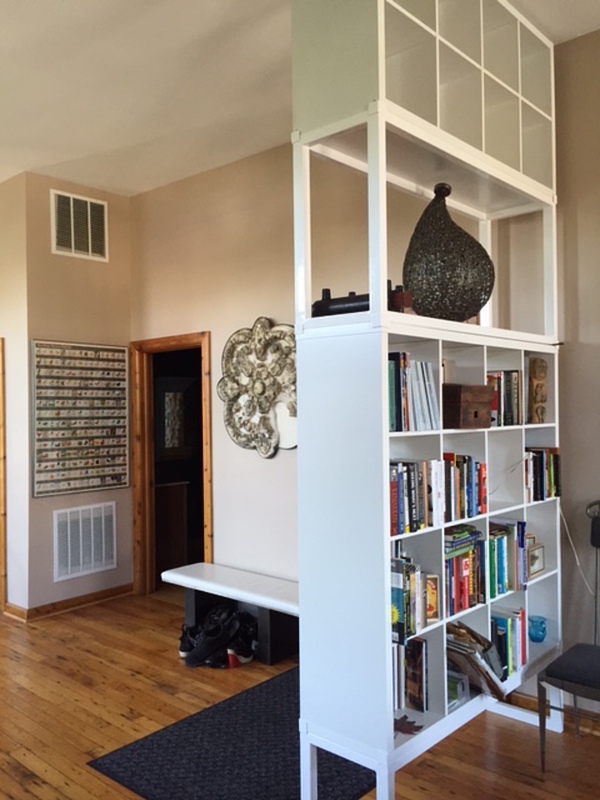 Another tall Ikea Kallax hack, this time a slightly smaller scale. This hack from Ikeahackers uses a couple of different Kallax units with some wodden frames to separate them and raise it up to the full room height.
We love the combination of the Kallax grids and large open space between. One for gorgeous books and the other for a wonderful large sculpture.
Mid-Century Simple Bookcase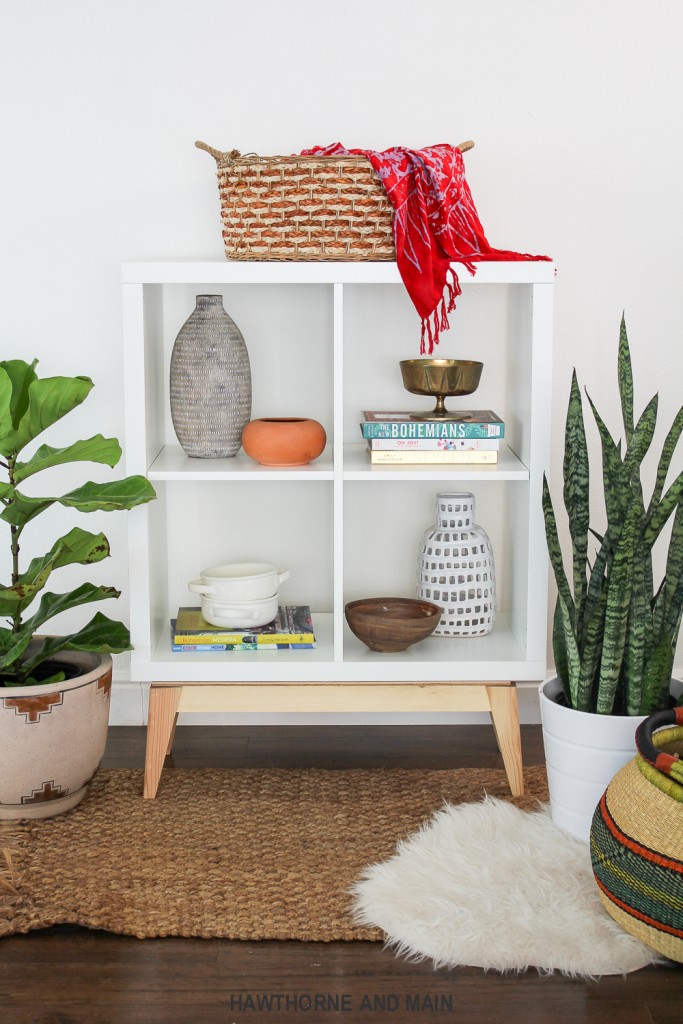 The legs on this gorgeous mid-century style Kallax hack have been made from scratch, so if you want to go down that route then check this out.
The hack is from Hawthorn and Main and turns an Ikea Kallax bookcase into something much more elegant.
Light Up Bookcase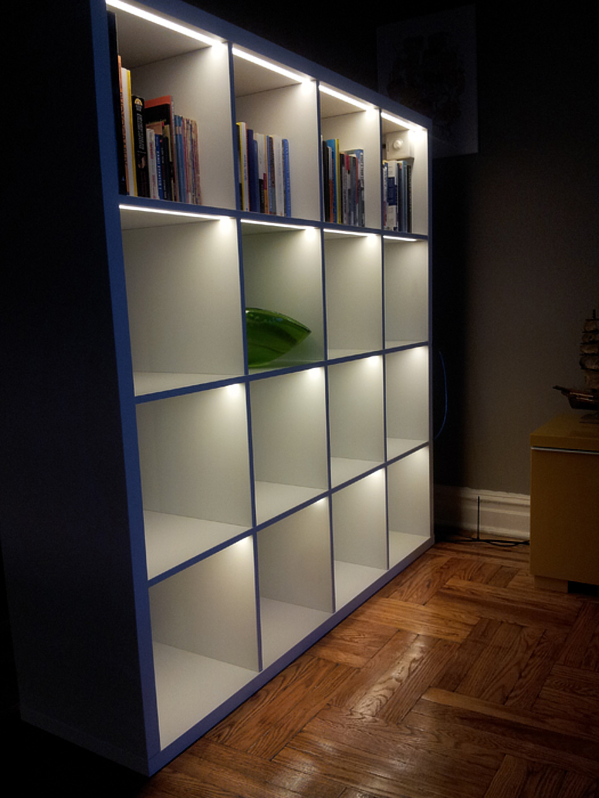 If you have a shoe collection or maybe a handbag collection to show off then this could be the best of all Ikea Kallax hacks for you!
Coming from Ikeahackers, this Kallax hack uses LED strip lights to create a stunning lighting effect in the bookcase.
Cactus Decals for Kallax Bookcase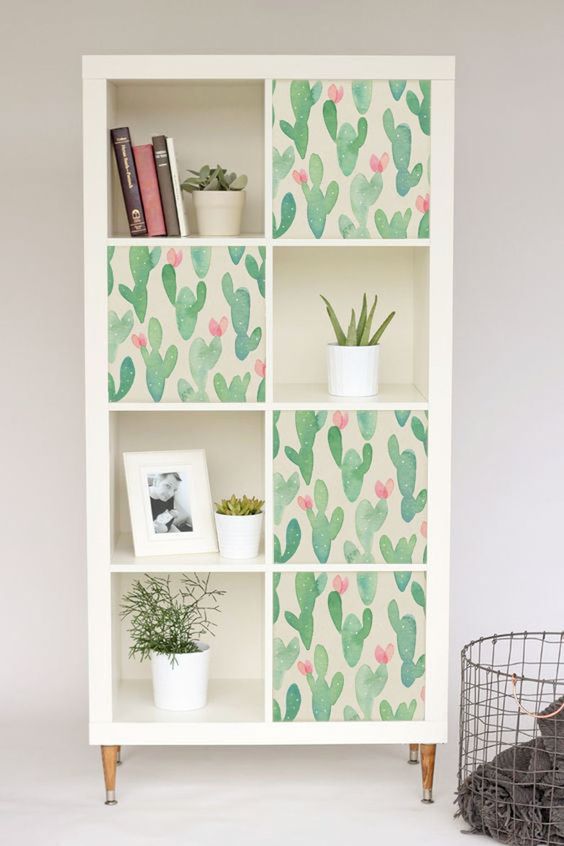 Another great decal option for your Kallax unit are these cactus decals from Stickers Coloray on Etsy.
We love a bit of cactus design in home decor and this is such an easy way to bring it into your home while upgrading your Kallax shelving.
The tapered legs at the bottom really set the whole thing off!
Upholstered Bench Seating Hack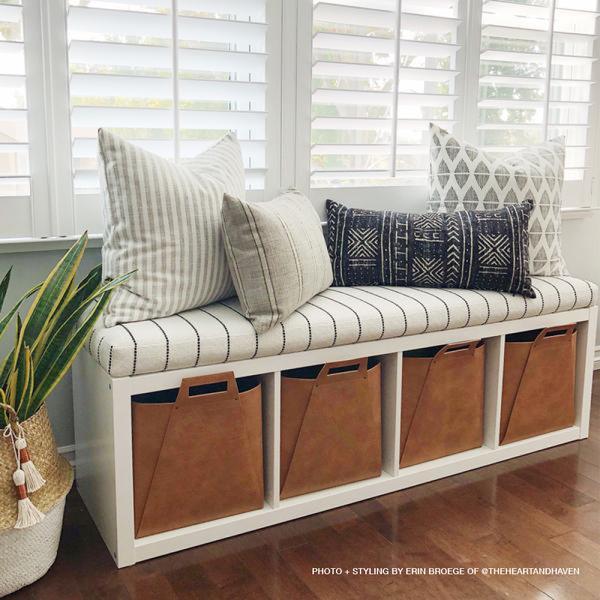 We adore this hack from The Heart and Haven for Tonic Living. The fabric used is stunning and it looks great on top of the Kallax unit.
The leather tubs are perfect for the space, although we don't know where they got them from.
Greek Style Sideboard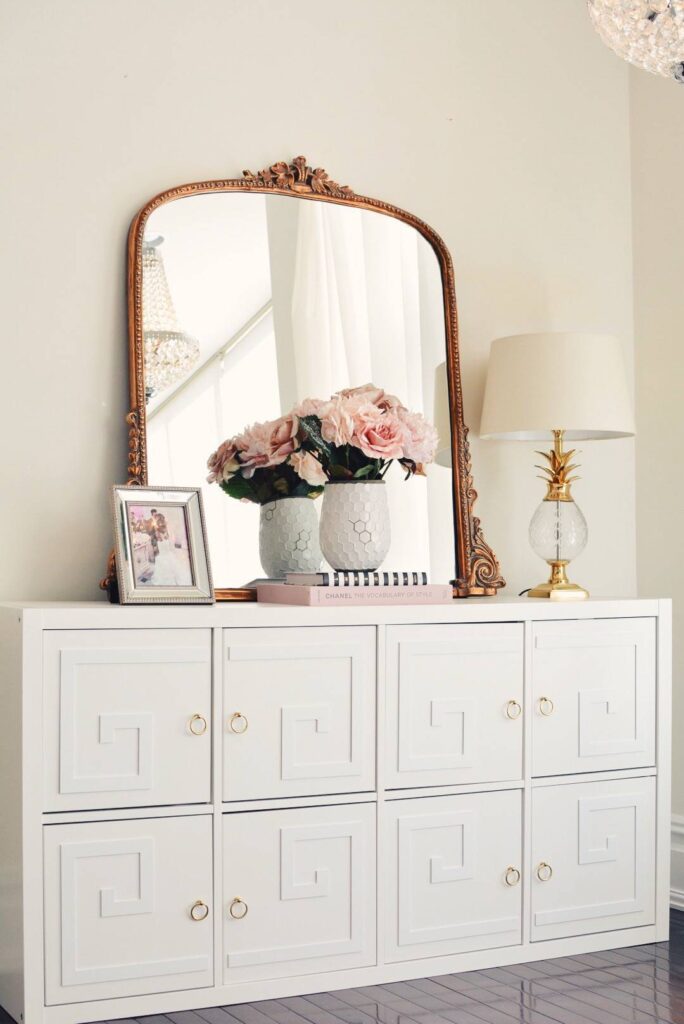 This lovely Ikea Kallax hack from The Pink Dream uses greek style panels from O'verlays to add a bit of style.
The ring pull handles are a great finishing touch.
Bed Base with Storage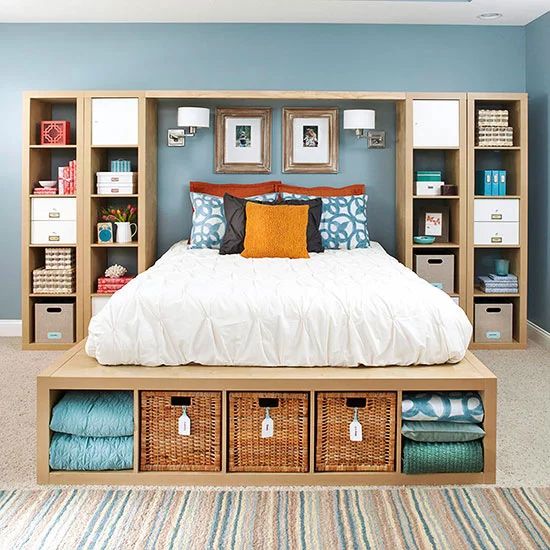 This is a great way to use the Ikea Kallax shelving. They have created a bed base with a few 1×4 units and laid a sheet of wood over the top.
This creates so much storage underneath the bed!
Mobile Media Unit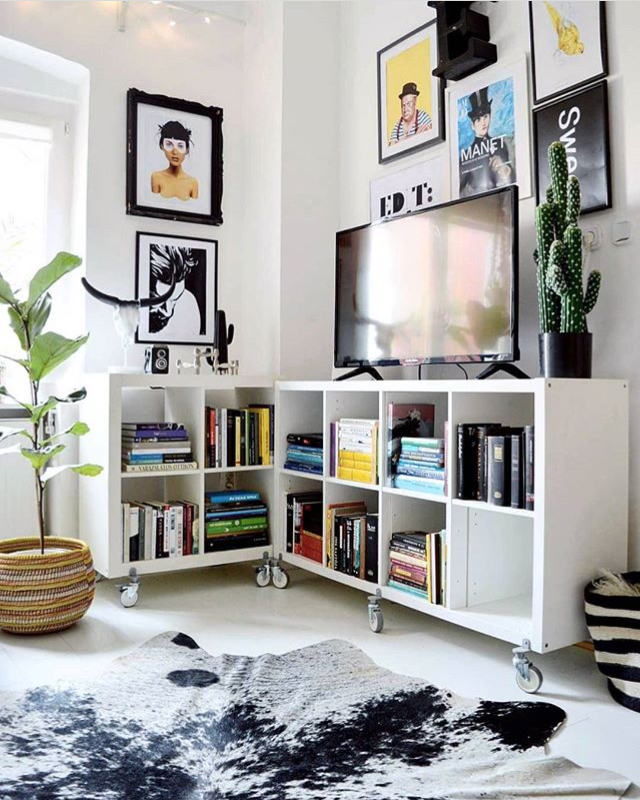 This industrial-looking mobile media unit from @mercedes.dozci on Instagram is a really modern way to integrate the Kallax into a space.
The large castors give a contemporary feel to it.
Mid-Century Record Storage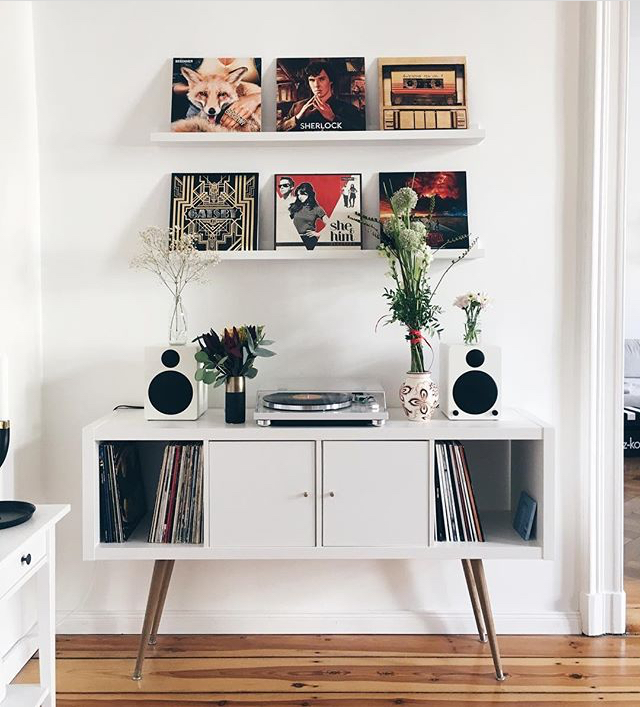 There have been a few mid-century style Ikea Kallax hacks in this article but I think this is one of my favourites.
This one is from @toujourspaloma on Instagram and it uses long tapered legs to create the effect.
Kitchen Island Kallax Hack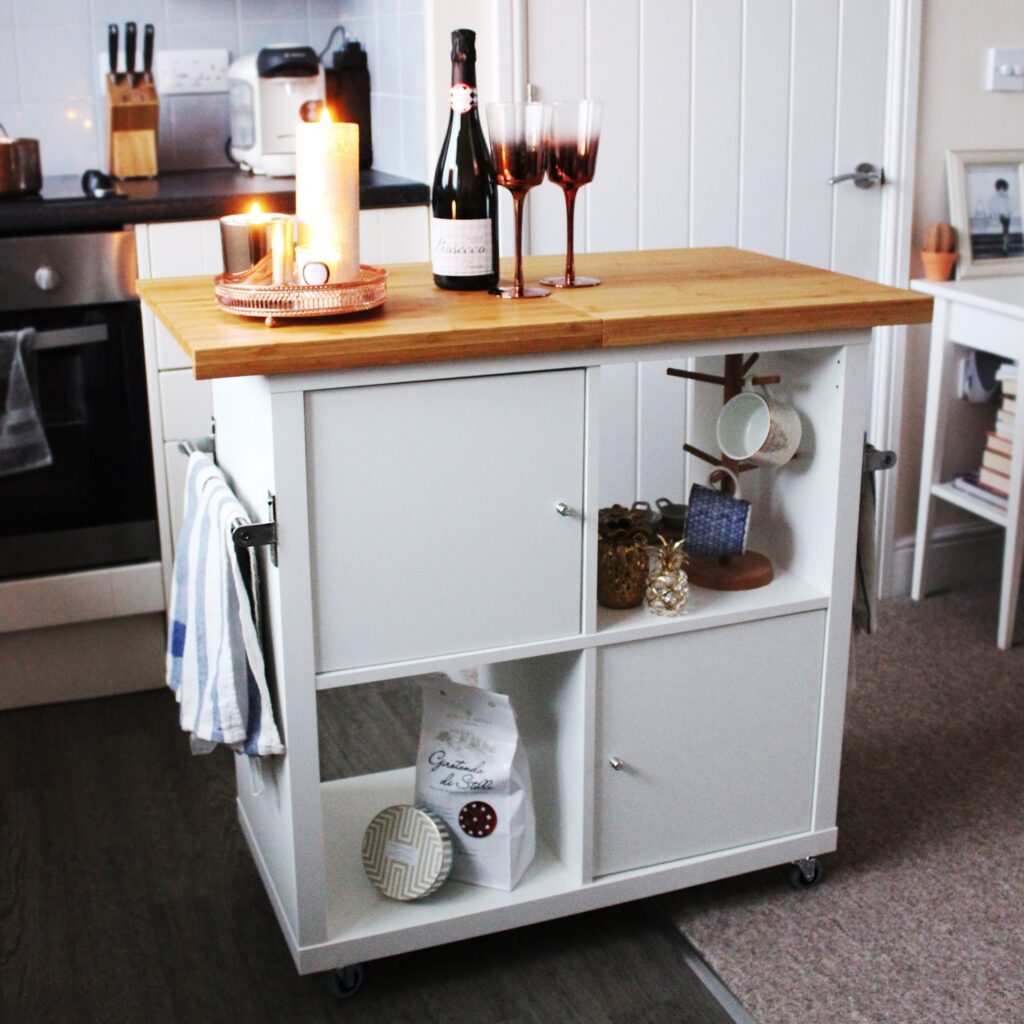 The most practical Kallax hack award goes to this kitchen island hack from Jen Lou Meredith.
It's a brilliant use of an Ikea Kallax bookcase to create a mobile kitchen unit with worktop and storage for many different kitchen tools and supplies.
Play Table Kallax Hack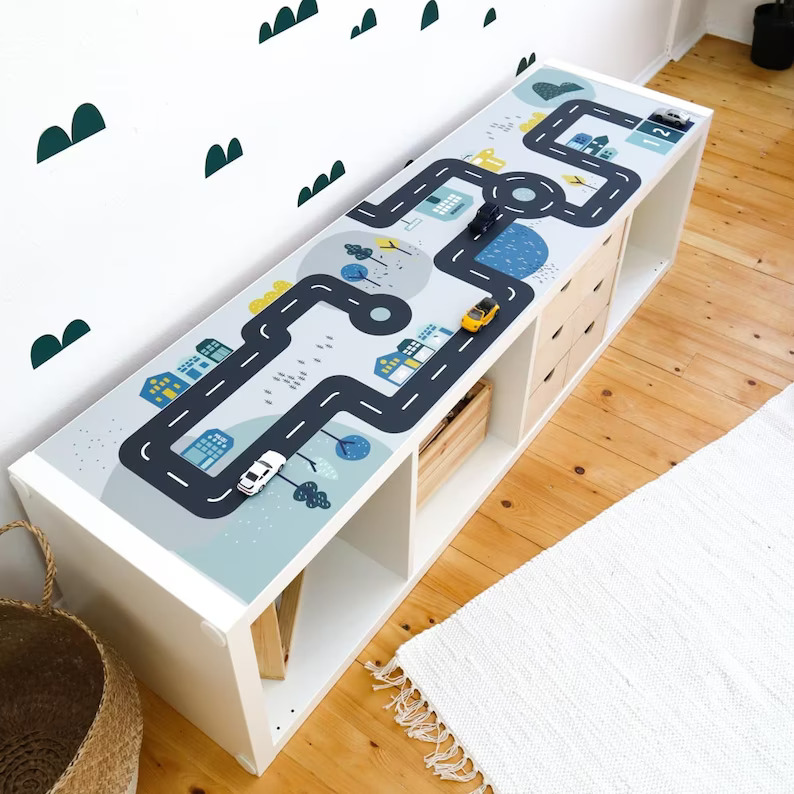 One final kids Kallax hack to finish with. This amazing play table from Limmaland. They make all sorts of kids decals to help create toys, play furniture and scenes from Ikea furniture.
We love how one simple decal can transform the Kallax into something so exciting for any child!
---
Such a great collection of Ikea Kallax hacks and all are projects that anyone could do with a bit of time and effort. In fact, some of them don't even require much of those!
Hopefully, you've found some inspiration to either repurpose your Kallax unit of get one to recreate one of these hacks.
---
Related Posts: