In our opinion, Besta is the best! The Ikea Besta units are a great base for so many fun and beautiful Ikea Besta hacks.
We've seen so much variety in the way people have customised these units to create sideboards, built-ins, bathroom vanities and so much more.
Let's dive in and discover some gems!
---
Ikea Besta Hacks
Mudroom Storage With Chunky Wooden Surround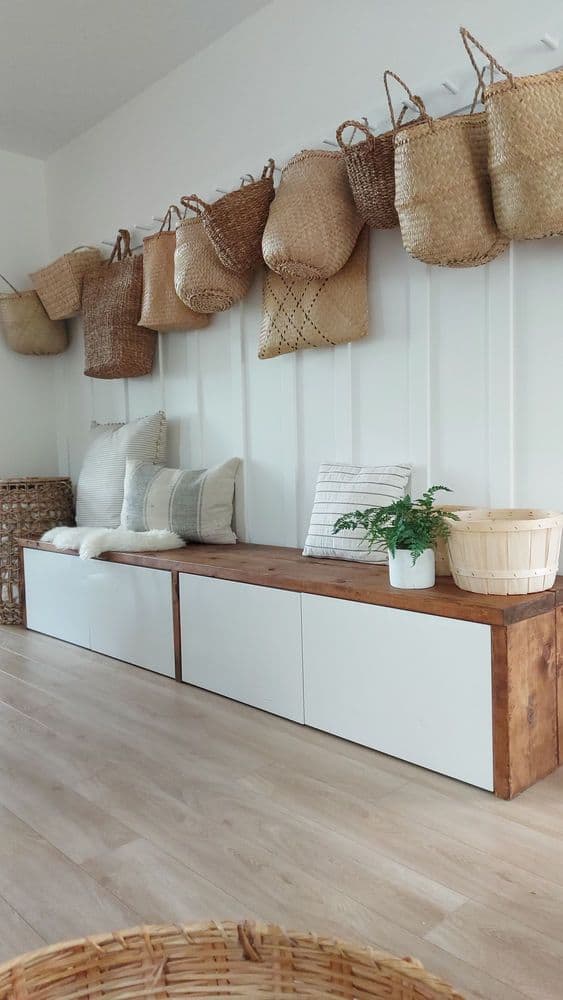 I love the rustic look of this Besta hack, with its chunky scaffold board wooden surround. It works so well with the sleek white finish of the Besta units and is actually really easy to achieve.
Mudrooms don't need to be fussy, they are a place to have somewhere convenient to sit while you get your dirty clothes and boots off and carry on with your life!
Besta With a Slab of Wood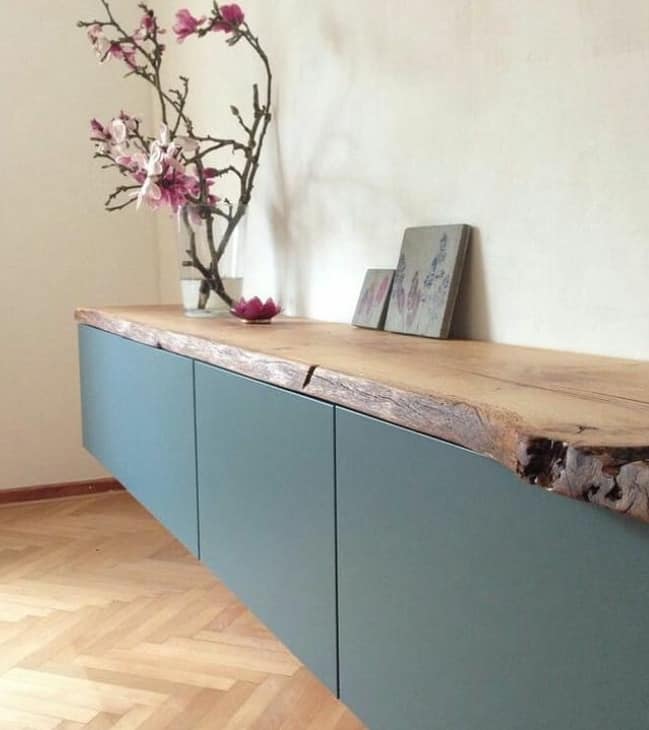 Live edge wood slabs are one of my favourite materials to work with. They just look so interesting, raw and eternal!
This fantastic Besta wall unit hack uses a huge live edge slab to give a lovely rustic feel to the space. You can pick one of these up at your local sawmill.
All you need to do is plop it down on top of your wall-mounted Besta units and you're done!
Elegant Besta Sideboard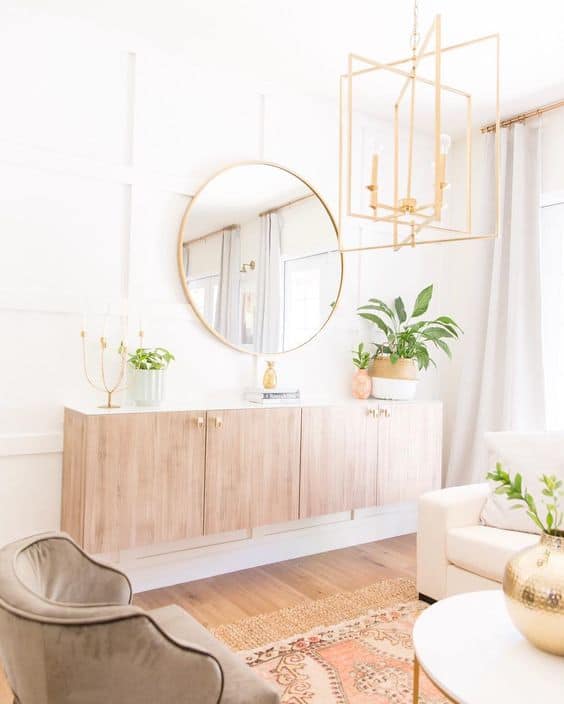 This creation is from The Posh Home, and indeed it is a very posh home! These floating Besta units fit in perfectly after the modifications they have had.
A delicately thin white marble top has been added to the wood-effect Besta units, which fits perfectly with the rest of the decor in the room. As do the lovely brass handles.
Inspired DIY Curved Cabinet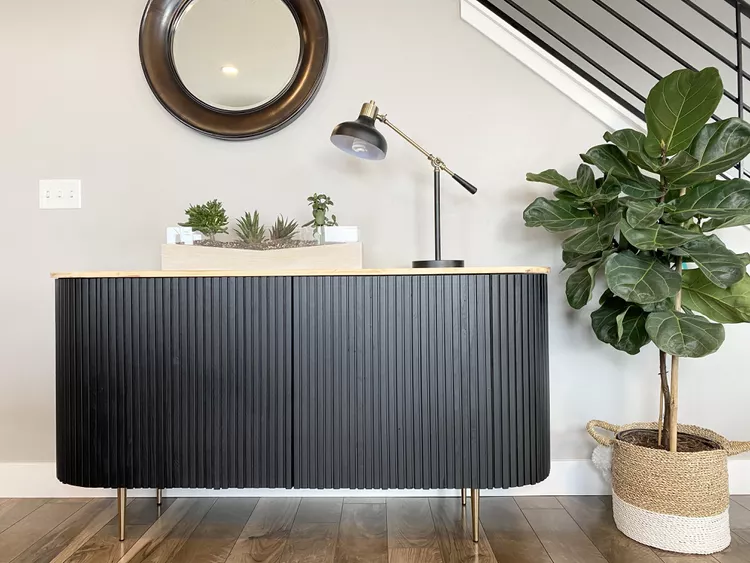 I am in awe of this Crate and Barrel-inspired curved unit. It takes Ikea hacks to a whole other level.
They decided to make this version using an old Besta unit as they were not impressed by the $1500 price tag of the original! It is a really interesting build if you follow the tutorial and one that I am eager to replicate myself!
Chapeau!
Colourful Besta Units All In A Row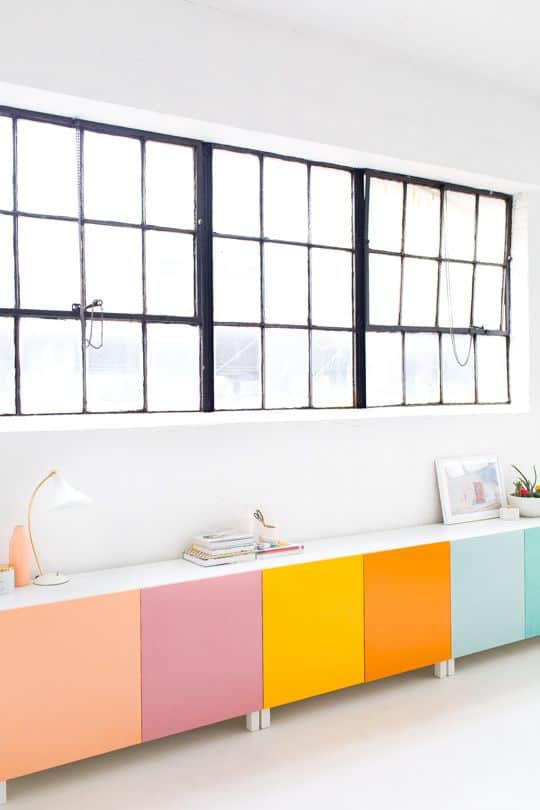 Who doesn't love a splash of colour? This is a fantastic way to jazz up the otherwise fairly bland selection of Besta unit doors.
All you need is a selection of spray paints or paint samples from the local DIY store.
This works really well in a room such as the one above that is otherwise all in a neutral colour.
Gorgeous Mono-Colour Alcove Storage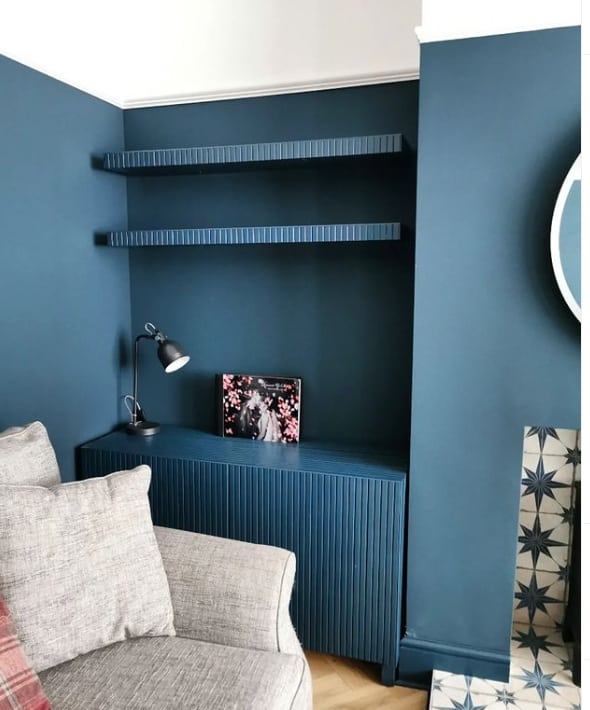 This is a really clever way to camouflage your alcove storage. Painting it the same colour as the wall! I mean, that's actually camouflage right there.
Not that it needed to be camouflaged, but it helps reduce the impact of the storage you place in an alcove as well as providing a solid background for all the lovely accessories you want to place on those shelves. I know you do, don't you?
Straight From Ikea, This Elegant Besta Idea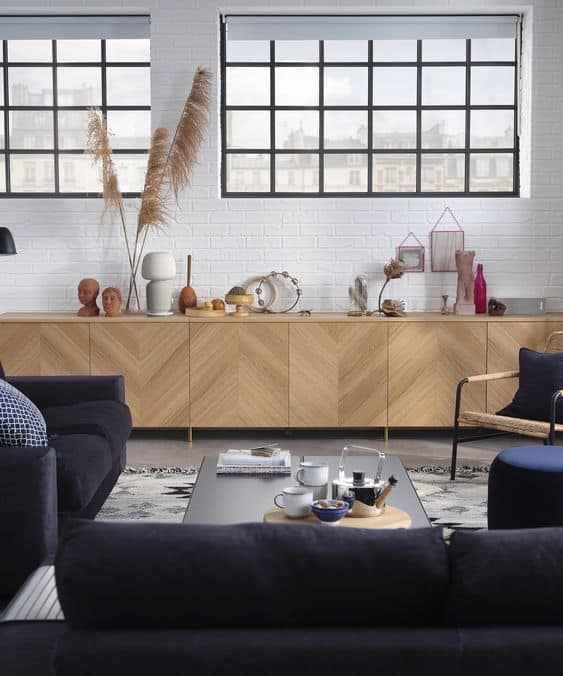 So, it's not a hack, but we're looking at great ideas for your Besta units and this is a wonderful way to use them. I love the chevron wooden doors and the slim brass legs.
Amazing what you can get in Ikea these days!
Utterly Gorgeous Besta Bathroom Vanity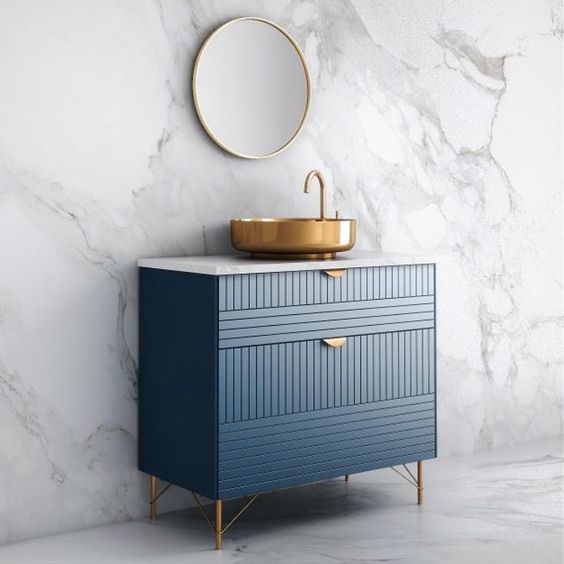 I had to finish with this amazing upgrade of a Besta unit into a high-end bathroom vanity unit.
The drawer fronts, handles and legs are all front Superfront who make these kind of embellishments specifically to use on Ikea furniture.
There are all sorts of designs and materials to choose from, but we love the colour and pattern of the one above, especially as it works so well with the brass fittings.
---
We really have brought you the gold standard of Ikea Besta hacks here. No messing around!
Hopefully, you've seen the massive benefits of using an Ikea hack in your thoughts as you design your spaces. Especially with the highly versatile Besta units.
Please let us know if you've got Ikea Besta hacks or ideas to rival those you've seen above.