We've recycled kitchen cabinets several times during our renovations. One kitchen was even free!
There is no reason why you should have to spend thousands to get a designer kitchen. Often, recycled kitchen cabinets will do a great job. Our current kitchen is all made from scratch out of birch ply, but if you don't have the resources or knowledge to do that then the next best thing is to recycle old cabinets.
There are several ways to go about salvaging kitchen cabinets, re-purposing them and finishing them to look like a designer kitchen and we'll take you through the process.
---
Recyling Your Kitchen Cabinets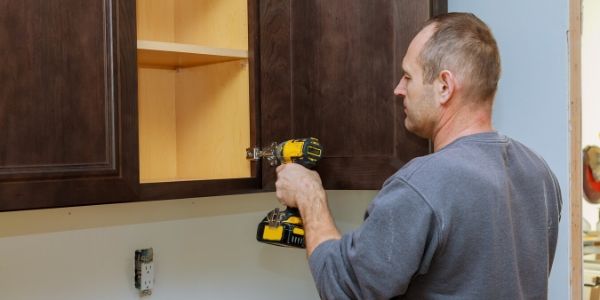 If you have kitchen cabinets already in place that you want to improve, you can save yourself a lot of time, money and hassle by recycling them.
If you want to change the layout, this might not be a problem. There are a few options you can take.
Take an inventory of your existing cabinets and plan the new layout with these in mind.
Find extra cabinets of the same make (whether new or salvaged) to add any new parts you need.
Make extra cabinets from ply, veneered particle board or melamine covered chipboard.
Don't worry, that last point is not too hard. You can get all the pieces cut at the timber merchants and use a Kreg pocket hole jig and this tutorial from Wood Magazine.
Salvaged Kitchen Cabinets
The first thing you need is an idea of what you want your kitchen to look like. You might get away with obtaining any old salvaged kitchen cabinets and then cobbling them together into your dream kitchen, but a little pre-planning can prevent wasting time and money.
That being said, if you restrict yourself too much then you might never find what you need. There has to be a happy medium.
When you search for salvaged kitchen cabinets for sale it is best to try and get more than you need. This way you make sure you will have enough of the same make of cabinet. You will also be able to use different parts to create exactly what you want.
There are a few key places to look:
Freecycle/Freeworlder/Freegle – Sign up for any of these within driving distance and allow notifications. React very quickly, things get snapped up in no time!
ebay – A no-brainer to check for bargains near you. Filter for 'used' condition and set a mileage from your location.
Craigslist/Gumtree/OfferUp – The more fingers in various pies that you have the luckier you get!
Post on Facebook – You never know who is getting rid of a kitchen, or who knows someone's dad's brother's friend's son who is getting rid of a kitchen…
Obviously it can get a bit cumbersome tracking all these sources, but just keep in mind the hundreds, if not thousands you can save!
If you are worried about transport, keep the same thought in mind. It will be far cheaper arranging a man and a van than buying a brand new kitchen!
Making Changes to Old Kitchen Cabinets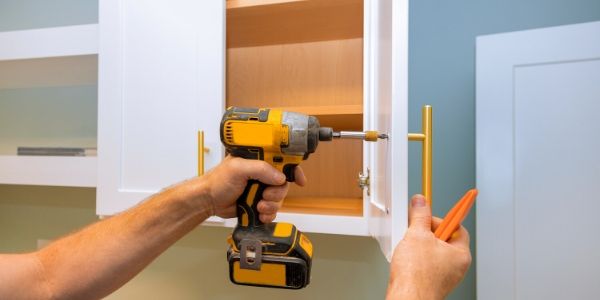 Whether you are using your old kitchen cabinets or salvaged kitchen cabinets, you can make quite a few changes to them to match your dream vision.
The first and most obvious is to the doors and drawer fronts. Again, you have a few options here.
Re-paint the old doors – make sure you use a good primer such as Zinsser 123 and then an acrylic wood and metal paint in the colour of your choice. A paint sprayer can really help here.
Make new doors – You could use birch plywood for a contemporary look or get pine boards and stain or varnish. MDF is also a good material to use if you are just going to paint them.
Buy new doors from a specialist company – This option can get expensive, but there are a few cheaper options out there such as Hot Doors (UK) or Fast Cabinet Doors (US).
Next, you can think about changing the hardware. If you are keeping the doors as they are then you may need to find handles that are the same size so you use the existing holes. If you are repainting then you can fill the holes and have whatever size handles you want.
The hardware is often where you can make the biggest impact. A simple flat, painted door can be made to look expensive with some quality handles or knobs. We love these solid brass hexagon cabinet knobs on Etsy.
Additions to Improve Your Recycled Kitchen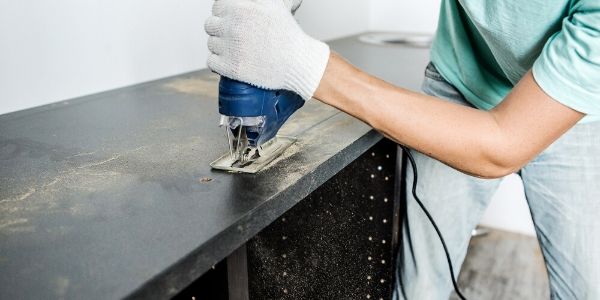 When we recycled a free kitchen that we found on Freecycle, we decided to splash out (if you can call £150 splashing out) on some solid oak worktops.
Worktops are an area where you can make a big impact for little cost. Even if you go for a solid granite worktop you can use some of the money you saved on the cabinets.
The sink and tap can make or break a kitchen, but there are ways you can keep costs down here. Ikea does a great range of kitchen sinks and taps that are not too expensive. You could try and salvage an old butler sink which is not too difficult to fit.
The splashback above the worktop is somewhere you can add a little designer touch. The best way to do this without spending too much is to choose some plain inexpensive tiles, perhaps a mini subway tile like these. Alternatively, a coloured glass splashback can look amazing!
Finishing Touches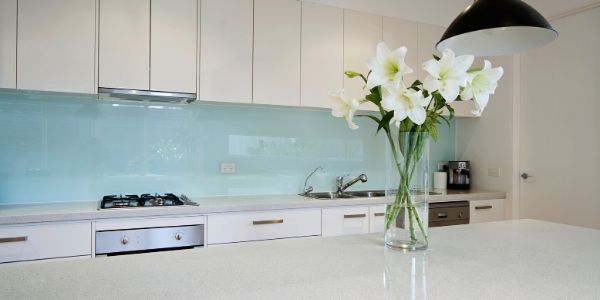 The finishing touches can really make a difference. Choose some accessoeries that will always be on display and that match in with the style you have gone with.
Here are some examples of accessories that work well in a kitchen:
Artificial flowers in a vase.
Copper pots or set of copper kitchen utensils hanging on a wall.
Your choice of artwork in an Ikea frame.
Statement lighting.
Colourful tea towels.
Using accessories to complete your look is a great, budget way to make your kitchen look that bit more expensive than it actually is. It'll be our little secret!
---
It really isn't hard to create a great, designer looking kitchen when you choose to recycle kitchen cabinets. Whether you salvage kitchen units or re-purpose kitchen units you already have, you will save a ton of money in the process and it makes a great story!
We created several kitchens in this way and know how rewarding it can be. Let us know if you have done the same or are planning to recycle kitchen cabinets too.